EGYPT 2021
Bergerud saves Norway, Belarus fight to draw with Sweden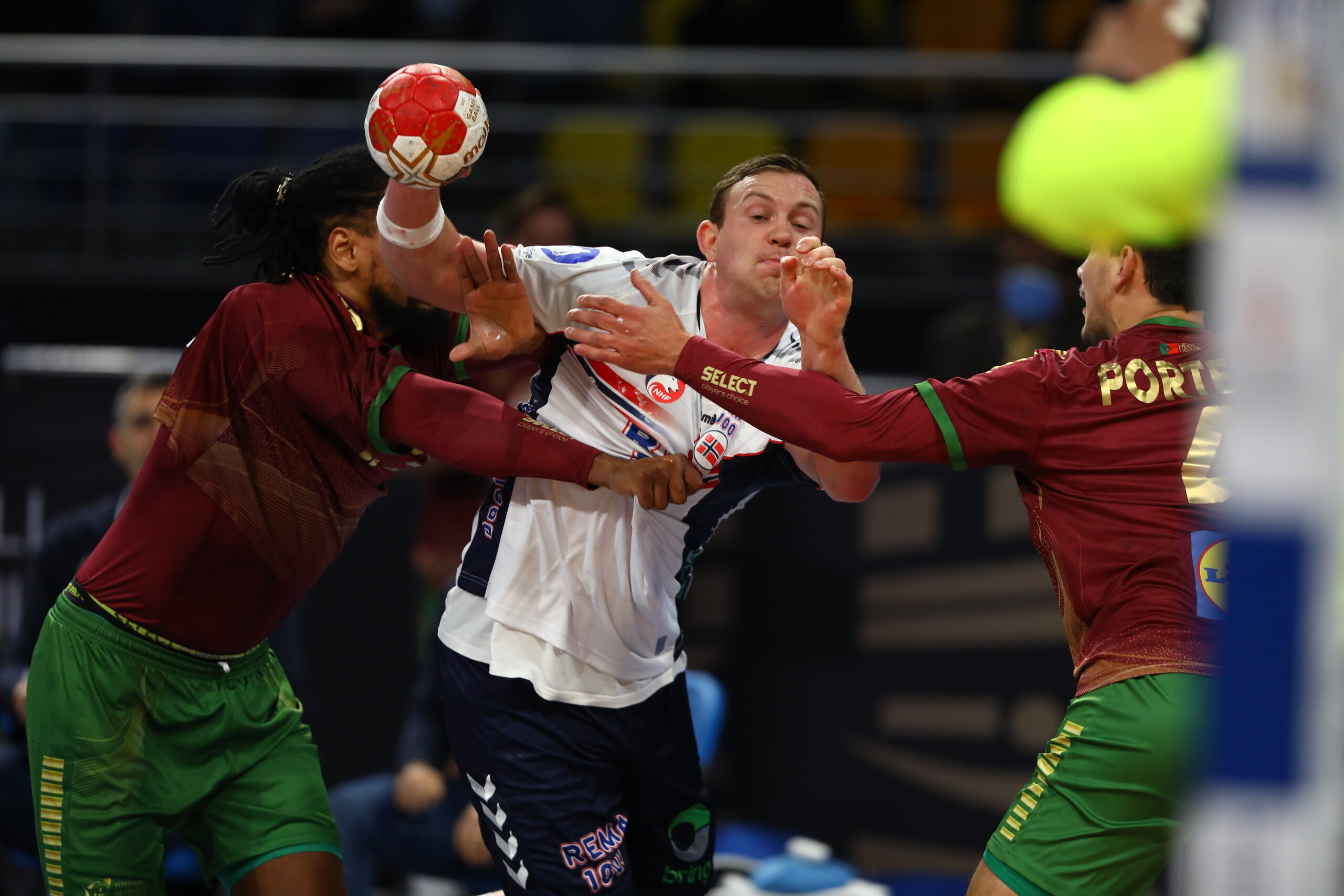 Norway beat Portugal 29:28 in their opening game at Group III of the main round of 27th IHF Men's Handball World Championship – Egypt 2021, at Dr. Hassan Moustafa Indoor Sports Complex, 6th of October on Wednesday.
The Norwegian players went to the locker room in a good mood after finishing the first period with 16-14 lead over their opponents Portugal who put on a superb performance during the preliminary round.
Portugal a comeback in the second period, they led 27:26, but Norway finished the game with a victory thanks to Bergerud's save in the last moment of the game.
Portuguese goalkeeper Humberto Gomes claimed the 'Player of the Match Award' after a superb performance during the game, despite his team's narrow loss to Norway.
Norway will face Algeria in the second game of Group III games on Friday, while Portugal will take on Switzerland in the same day.
Portugal – Norway 28-29 (14-16)
Portugal: Pedro Portela 5, Miguel Martins 5, Fabio Magalhaes 4, Andre Gomes 4, Victor Iturriza 3, Gilberto Duarte 2, Diogo Branquinho 2, Daymaro Salina 1, Alexis Borges 1, Alfredo Quintana 1.
Norway: Sander Sagosen 6, Harald Reinkind 5, Magnus Jondal 5, Christian O`Sullivan 3, Kristian Bjornsen 3, Bjarte Myrhol 2, Petter Overby 2, Goran Sogard Johannessen 2, Kent Robin Tonnesen 1.
Belarus drew level with Sweden in the dying embers of their main round Group IV match on Wednesday night, after surrendering a first-period lead with a final score of 26:26.
Belarus stormed to a 15:10 lead in the first period, with Mikita Vailupau firing his side in front with six goals besides the excellent performance by the two-time player of the match Uladzislau Kulesh, who made two vital interceptions to break up Sweden's attacks.
The match sprung to life in the second period, as Sweden valiantly fought back to go within one goal of winning with just 4 seconds on the clock, only for Andriy Yurynok to draw level.
Sweden's Hampus Wanne was chosen as the player of the match, after amassing seven goals.
Sweden faces Slovenia in their next match, while Belarus take on Egypt.
Sweden – Belarus 26-26 (11-15)
Sweden: Hampus Wanne 7, Alfred Jonsson 6, Lukas Sandell 4, Daniel Pettersson 3, Felix Claar 3, Jonathan Carlsbogard 2, Jim Gottfridsson 1.
Belarus: Andrei Yurynok 6, Mikita Vailupau 6, Artsem Karalek 5, Aleh Astrashapkinn 3, Uladzislau Kulesh 2, Vadim Gayduchenko 2, Viachaslau Bokhan 1, Artsiom Kulak 1
GROUP III
France 6
Portugal 4
Norway 4
Iceland 2
Switzerland 2
Algeria 0
GROUP IV
Sweden 5
Egypt 4
Slovenia 4
Russia 3
Belarus 2
Macedonia 0