IHF
Bjornsen devastated after all – Look how Norway miss semi-final! (VIDEO)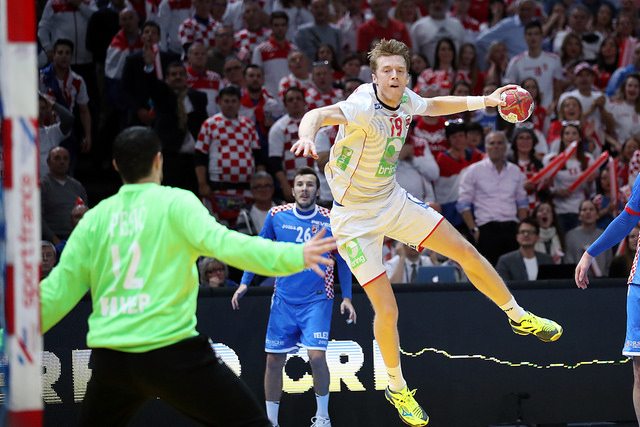 Kristian Bjornsen is definitely tragic person of Norwegian handball. Experienced right wing had two chances to bring his national team to the semi-final. Firstly, when he pass the ball via center line of the court in situation when Norway was goal up and had the chance to score another one five seconds before the buzzer of quarter-final match against Spain. Referees took the ball because of inactivity and Dani Dujshebaev beat the buzzer for extra-time in the last second of regular 60 minutes.
Second, in the last seconds of the fourth extra-time, Bjornsen jumped to score equalizer and bring penalty-shotout, but Vargas saved it!
– It is heavy. Extremely bitter. It was not the way they had imagined that the match would go. Regrettably, there are two situations where I help to destroy, says Bjørnsen to national TV 2.
– Yes, of course, there is no doubt that I should have done something different in the two situations. "Certainly went for the goal a bit more in regular time, and of course put the ball in the goal at the last chance and got a penalty," he replies.
Before the miss, Kristian Bjørnsen had scored on nine out of nine chances, and delivered a good game.
– You always dream of the opposite, that it is you who decides, he says.
– As a rule, there is always a culprit, and today it was me.
He explains the situation in regular time as follows:
– Basically, I think that there will be a defender in front of me and that I will therefore not have free passage towards the goal. Naturally, I then center the ball back. The referee thinks that it is a bit too passive play, and turns the game over directly. Then they get a small chance and they take care of it.
With the conclusion in hand, he wished he had done everything else.
– Yes of course. There are probably many things I could have done to avoid it. In retrospect, it is easy to stand here and say. It is extremely sour. It's not good enough from me, unfortunately.
National team manager Jonas Wille sympathizes with Bjørnsen.
– We just have to back him as much as we can. We'll have a chat with him. There is no template for how we should solve such a performance – said Wille and added: Bjørnsen played an extremely good match after all.