America
Brazil win SOUTH AND CENTRAL AMERICAN Women's Youth Championship 2022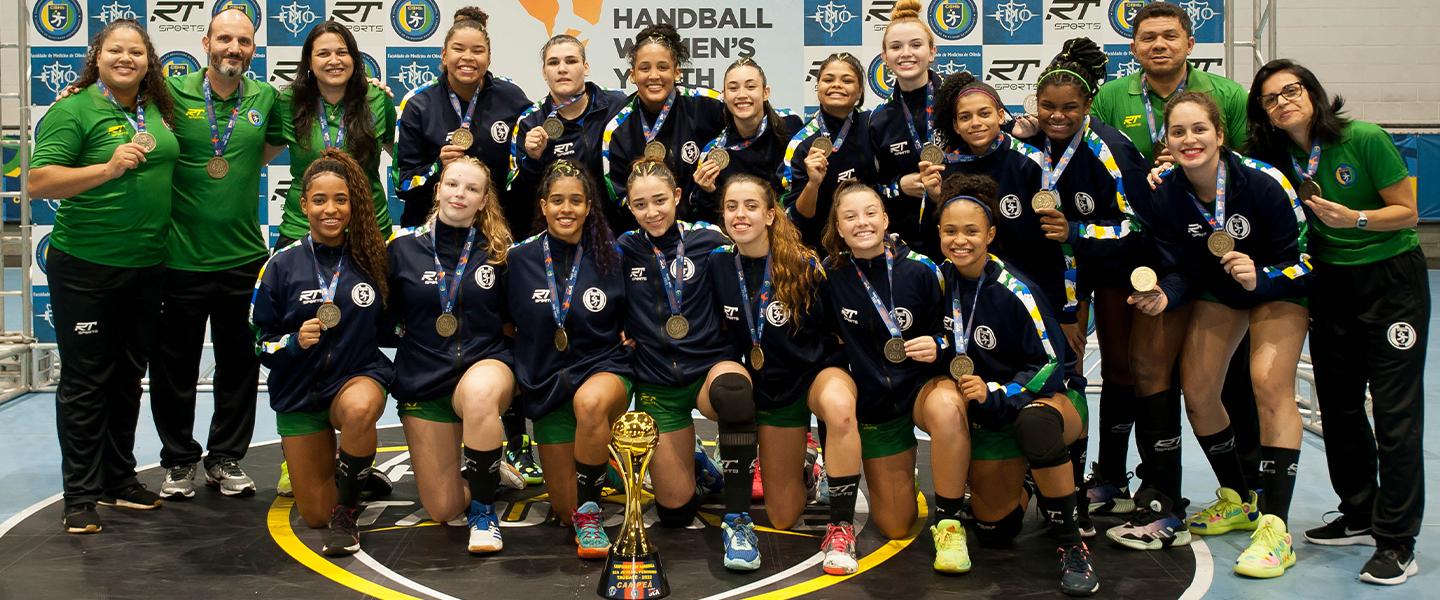 The 2022 South and Central American Women's Youth Championship featured five teams who battled for the three spots reserved for them at the IHF Women's Youth (U18) World Championship and took place in Taubaté, Brazil between 26 and 30 April.
The hosts clinched first place in the round-robin tournament, securing four wins in four games, including a narrow 25:24 win in the decisive match against Argentina, their biggest rivals.
With five action-packed days that featured exciting matches between the top five women's youth teams in the South and Central American Handball Confederation, Brazil proved why they were the favourites, sweeping their opponents and creating a superb +53 goal difference.
The tournament threw off last Tuesday, with Argentina taking a narrow win against Paraguay, 27:26, while Brazil dominated Uruguay, taking a 37:20 win.
A 15:15 draw followed when Uruguay and Chile took the court on Wednesday, as Brazil clinched another clear win, 30:15, against Paraguay, proving once again their status as the team to beat.
While Argentina secured a 10-goal victory against Chile, 27:17, Brazil had a rest day before facing their big rivals on Friday evening, with the home fans relishing the clash.
In a packed EMECAL Arena in Taubaté, Brazil enjoyed a great start, 5:2, but Argentina weathered the storm, with the two teams still in a deadlock at the break, 14:14. The guests even took the lead in the second half, 20:19, but Brazil bounced back, thanks to a superb game from back Kelly Rosa, who scored 12 times to power her side to a 25:24 win.
Brazil had already secured the trophy after the emphatic win against Argentina, but eventually won their fourth game against Chile, 41:21, to secure the gold medal.
With their final day win against Uruguay, 24:19, Argentina sealed the second place, winning three out of the four games, finishing with a +15 goal difference, to qualify for the 2022 IHF Women's Youth World Championship.
With Chile drawing two games and losing the other two, third place went to Uruguay, whose 32:21 win against Paraguay on the third day was enough to see them finish third, to earn their third-ever berth for the IHF Women's Youth World Championship.
Both Argentina and Brazil qualified for the seventh time for the world flagship event, with Argentina finishing sixth in 2006 and Brazil seventh in 2014.
With 29 goals scored over four games, Brazil's Kelly Rosa was the top scorer of the event, followed by Paraguay's Karen Luana Cantrero with 20 goals and another Brazil player, Nathaly Soares, who scored 19 times.
Final ranking
1. Brazil*
2. Argentina*
3. Uruguay*
4. Chile
5. Paraguay
*Qualified for the 2022 IHF Women's Youth (U18) World Championship
Photo: South and Central American Handball Confederation
Source: IHF