Csurgoi KK beat Pick Szeged at the end of regular season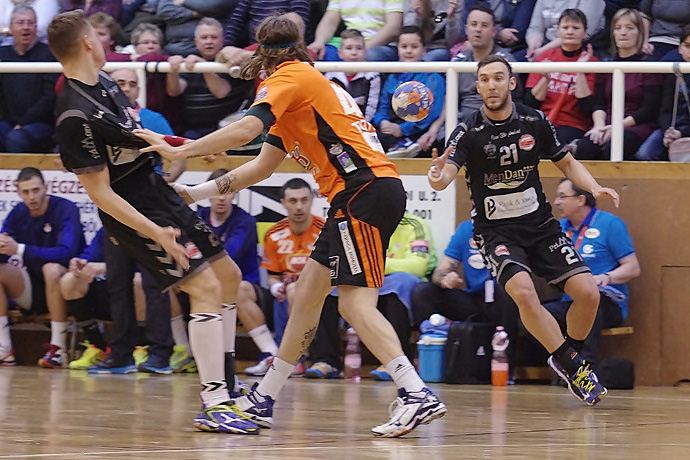 PICK Szeged suffered the first defeat at the end of regular part of the season in Hungary. The third force of Hungarian handball, Csurgoi KK ended the "black weekend" of team from Szeged 30:27, which began with the defeat in Schaffhausen in the VELUX EHF Champions League.
CSURGÓI KK – MOL-PICK SZEGED 30-27 (12-11)
Csurgó: Mijatovic, Pallag, Gazdag 5, Cavor 3, Vadkerti G. 1, Ostroushko 3, Oláh 2, Borsos, Nagy D., Szöllősi 3, Gebhardt 4, Nagy M., Lele 4, Pordán 1, Ratajec 4, Herbert.
Szeged: Sierra, Pásztor, Ancsin 3, Parrondo 5, Szabó, A.García 1, Ilyés 4, Bombac 2, Vranjes 3, Vadkerti A., Källman 2, Prodanovic 1, Balogh 6, Hegedűs, Blazevic. Vezetőedző: Juan Carlos Pastor
Five best teams from the regular part of the season will meet MKB MVM Veszprem in the Play-Off League. Veszprem decided to play in the SEHA GAZPROM South Stream league this season.
STANDINGS:
| | | | | | | | | |
| --- | --- | --- | --- | --- | --- | --- | --- | --- |
| 1. | Szeged | 20 | 19 | 0 | 1 | 711:481 | 38 |       |
| 2. | Csurgoi | 20 | 17 | 2 | 1 | 560:462 | 36 |       |
| 3. | Tatabanya | 20 | 14 | 0 | 6 | 486:470 | 28 |       |
| 4. | Balatonfuredi | 20 | 13 | 1 | 6 | 566:483 | 27 |       |
| 5. | Oroshazi | 20 | 9 | 1 | 10 | 538:547 | 19 | |
| 6. | Gyongyosi | 20 | 8 | 2 | 10 | 542:545 | 18 | |
| 7. | Mezokovesdi | 20 | 8 | 1 | 11 | 503:533 | 17 | |
| 8. | Cegledi | 20 | 5 | 1 | 14 | 540:607 | 11 | |
| 9. | PLER | 20 | 4 | 1 | 15 | 492:578 | 9 | |
| 10. | Komloi | 20 | 4 | 1 | 15 | 476:600 | 9 | |
| 11. | Balmazujvaros | 20 | 3 | 2 | 15 | 464:572 | 8 | |