DKB HBL: 10 goals of Du Rietz for 10-goals win of RN Lowen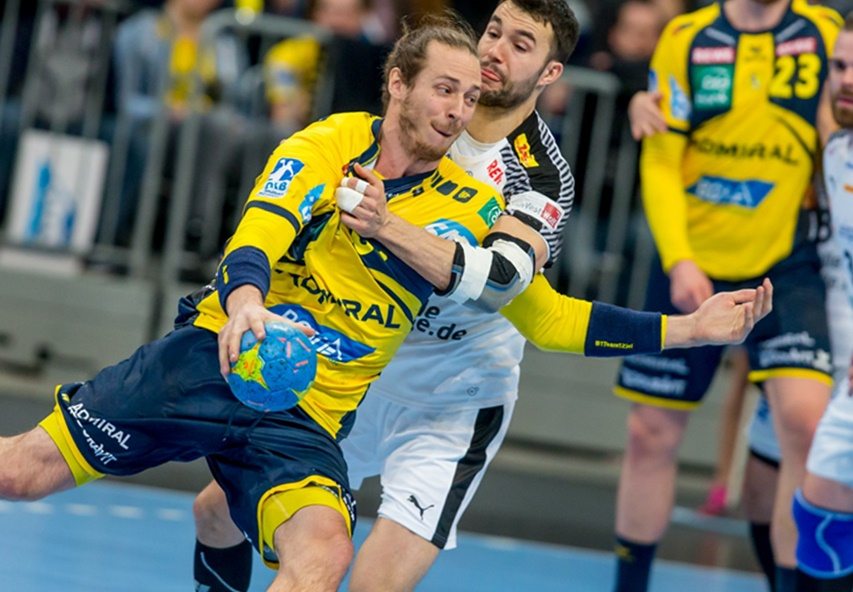 Kim Ekdahl Du Rietz needed 10 days of training after nine months break to score 10 goals at DKB Bundesliga match! The 29years old Swedish star was the first shooter in Rhein Neckar Lowen routine win over VfL Gummersbach 36:26.
SG Flensburg won important battle against Fuchse Berlin 29:21.
THW Kiel – HC Erlangen 29 : 24 (15:12)
THW Kiel: Vujin 9/6, Santos 7, Ekberg 3, Wiencek 3, Zarabec 3, Nilsson 2, Rahmel 2
HC Erlangen: Steinert 6/1, Büdel 4, Sellin 4, Thümmler 4, Schröder 3, Haaß 2, J. Link 1
Die Eulen Ludwigshafen – HSG Wetzlar 31 : 29 (10:15)
Die Eulen Ludwigshafen: D. Schmidt 9, Valullin 5, Dietrich 4, Djozic 4/4, Falk 2, Feld 2, Haider 2, Scholz 2, Durak 1
HSG Wetzlar: Holst 9/3, Ferraz 5, Björnsen 4/1, Forsell Schefvert 3, Kohlbacher 2, Lindskog 2, Mirkulovski 2, Buric 1, Cavor 1
Rhein-Neckar Löwen – VfL Gummersbach 36 : 26 (22:11)
Rhein-Neckar Löwen: Ekdahl Du Rietz 10, Sigurdsson 7/3, Radivojevic 6, Larsen 5, Pekeler 3, Taleski 2, Baena Gonzalez 1, Keller 1/1, Reinkind 1
VfL Gummersbach: Köpp 8/3, Erwin Feuchtmann Perez 6, Zhukuv 6, Sommer 4/2, Jaeger 2
SG Flensburg-Handewitt – Füchse Berlin 29 : 21 (14:10)
SG Flensburg-Handewitt: Lauge Schmidt 8, Svan 6, Zachariassen 4, Glandorf 3, Mahé 3/3, Wanne 3/1, Mogensen 1, Steinhauser 1/1
Füchse Berlin: Lindberg 9/5, Fäth 3, Zachrisson 3, Kopljar 2, Wiede 2, Mandalinic 1, E. Schmidt 1
Frisch Auf Göppingen – MT Melsungen 29 : 28 (14:11)
Frisch Auf Göppingen: Fontaine 6, Kozina 5/4, Schiller 5/1, Kneule 4, Bagersted 3, Schöngarth 3, Rentschler 2, Sesum 1
MT Melsungen: Reichmann 9/4, Kühn 5, Maric 4, M. Müller 4, Danner 2, Boomhouwer 1, Haenen 1, Mikkelsen 1, P. Müller 1


STANDINGS:
1. Rhein-Neckar 23 20 0 3 720:554 40
2. Flensburg-H. 25 19 2 4 737:629 40
3. Fuchse Berlin 24 18 2 4 688:629 38
4. Hannover-Burgdorf 24 17 3 4 681:635 37
5. SC Magdeburg 24 17 1 6 718:648 35
6. Kiel 25 16 1 8 736:646 33
7. MT Melsungen 25 14 3 8 699:658 31
8. Leipzig 24 14 1 9 640:610 29
9. HSG Wetzlar 25 10 3 12 653:638 23
10. Goppingen 25 8 6 11 674:682 22
11. Lemgo 24 8 5 11 617:663 21
12. Minden 24 6 7 11 640:683 19
13. Erlangen 25 5 6 14 597:681 16
14. Stuttgart 24 6 1 17 590:670 13
15. Gummersbach 24 6 0 18 604:685 12
16. N-Lubbecke 24 3 5 16 545:632 11
17. Ludwigshafen 25 3 3 19 584:677 9
18. Huttenberg 24 2 5 17 593:696 9