VELUX EHF Champions League 2013/2014 Preliminary Round si behind us. Handball-Planet.com analyzed what had happened in the first six months of the season….
STRONG VESZPREM – ENOUGH FOR COLOGNE?
VELUX EHF CL Group A hadn't serious battle for the first place after Ukrainian Motor took a point from Rhein Neckar Lowen in Mannheim. Since Veszprem's victory over Gensheimer and Co. it was clear that Carlos Ortega will win the pole position before TOP 16, which will help Hungarians to avoid Kiel and Barcelona before F4 in Cologne. Is that enough to see Veszprem in "Lanxess Arena" finally?
The "black point" of the group was the last match between Motor and Veszprem. To play handball under condition of chaos on the streets where people dying,  wasn't a smart decision. It is hard to say who is "guilty" why Zagreb lost "safe" place at TOP 16? EHF, Veszprem's "easy access" to the match or motivated Ukrainians.
From the other side, Slovenian Celje PL secured third place and TOP 16 second year in a row despite bad financial situation which forcing Slovenian most successful team to sell great-young players every summer.
The only team who had nothing with EHF CL level is Russian Sankt Petersburg, but this team is coming as "colateral damage" of Chekhovskie Medvedi's financial crash.
THW Kiel won the group B. "Zebras" had problems with Vive Targi Kielce in both matches. Talant Dujshebaev gave to his new team "winning spirit" which won't surrender so easily against the "paper favorite".  Alfred Gislason managed to keep high performance of the German champions despite many changes last summer and a huge number of injuries during the first part of the season.
Kielce finished third and now waiting for some serious clash in the TOP 16. They will be favorite against Flensburg and PSG, with all what they have passed in the last season, when they finished third in Cologne.
KIF KOLDING – THE POLISH "NIGHT MARE"
One of the biggest positive surprises of this season is KIF Kolding Copenhagen. Hvidt and C.o became a real nightmare for the Polish teams. They beat Kielce and Wisla in all four matches, what was enough to secure second place and chance to progress to TOP 8,what would be extraordinary results for Danish champion.
Also FC Porto showed nice performances, won five points in their first season, which is promising start for the team who had a lot of problems during years to find a way to the European elite. Serbian coach Ljubomir Obradovic obviosly improving players quality and team in total.
WHAT HAPPENED TO DUNKERQUE?
In their first season, nobody expected some miracle, but at least much more energy and points from French vice-champion Dunkerque. Second best French team totally dissapointed all the handball lovers with the level of resistance to maybe stronger teams, but not that stronger. French team had to be at least ahead of Porto and to seriosly fight for the TOP 16 place with Wisla Plock, but that wasn't a case this year…
BARCA – FAVORITE NO.1
FC Barcelona are the favorite number 1 for winning the trophy in Cologne this season, but the guys of Xavi Pascual had same pressure last year also. Now, they have Nikola Karabatic, probably the best World player in the last two months, again in the "old form", when he eating everyone around. Barca finished fantastic series of 36 matches without defeat thanks to fanatic energy of Skopje's crowd and the ingenuity of Metalurg's coach Lino Cervar.
QUESTION NO.1 – HOW FAR CAN GO PSG?
What is going on with PSG Handball. The richest team in the world, full of world stars are struggling to find a rhytm through the whole season and still is far away from the TOP teams as Barcelona. Will they find a form enough to beat some big team in two matches at TOP 16 or TOP 8? Gardent's destiny is to take off scalp of some big name if they want to reach city on Rhein…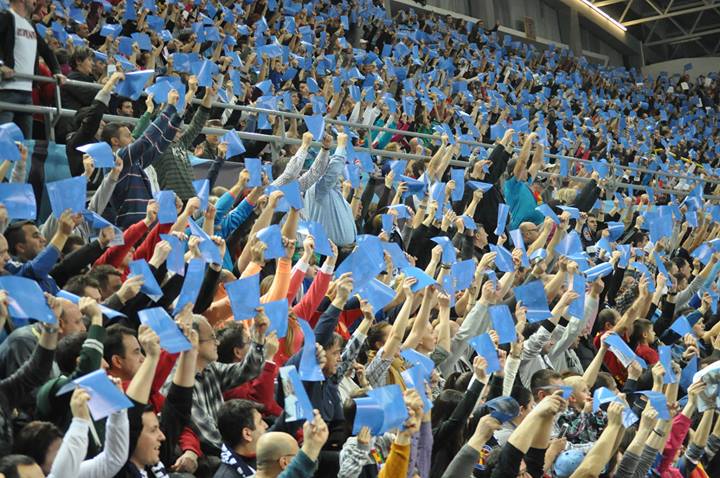 MACEDONIAN REVOLUTION
Two teams at TOP 16, great handball euphoria in Skopje, one hall "Boris Trajkovski", one dream – Cologne. Vardar and Metalurg made fantastic step forward to the best teams in Europe. Metalurg began revolution last year with TOP 8 place, but this season with the higher budget helped by Russian boss Sergei Samsonenko, Vardar have the same ambitions. People are staying spechless when they have to describe how big impact on everyday life, selconfidence and pride of ordinary man, have handball success of Macedonian teams. Really, unbeiavable…
DINAMO MINSK – A LITTLE DISSAPOINTMENT
Belarussian champion, strong team coached by good coach who made fantastic result with Slovenia at WCh 2013, Boris Denic, missed to qualify for TOP 16 and that is a little dissapointment. Dinamo Minsk didn't lost chance to play at TOP 16 (as last season) in matches with direct rivals Vardar and Metalurg, but in clashes with Barcelona and PSG. Bellarusians didn't managed to surprise these teams, as Macedonians did. That was a crucial moment in this season…
HSV HANDBALL ON THE WAY TO COLOGNE
HSV and Flensburg finished first and second as expected in Group D. HSV still have strong line-up to fight for the Cologne and not only to be there touristic. Flensburg have a lot of problem with injuries and a coach Ljubomir Vranjes, who finding a way to get 110% from his team's quality. In current situation, Flensburg is far away from Cologne, but whether draw will give them an "invitation"…
GORENJE – NEW COACH, A LOT OF NEWCOMERS – SAME SUCCESS
Slovenian Gorenje have a huge financial problems. They have replaced the coach and most of the leading players last summer, but with good scouting in Ex-Yu area, they against made motivated, talented and strong line-up, who qualify for TOP 16 second year in a row. That is a huge success for team from Velenje. Danish Aalborg had a good start of the season, but team of Nikolaj Jakobsen losing a focus in 2014. They lost the "third place battle" against Gorenje at home, what is the biggest problem before draw in Vienna…
Naturhouse La Rioja did everything to qualify for TOP 16, but that wasn't enough for second Spanish team, who finished with the same number of points with Gorenje and Aalborg.
WE NEED STRONGER ONE FROM SWEDEN…
Swedish Drott Halmstad is a huge dissapointment in this group. Only 1 points suggest that Swedish best team had no quality, but it's a time that country with strong handbal tradition find a way to make a stronger squad for European elite…