HANDBALL WORLD UNITED: Over 171.000 votes for the biggest stars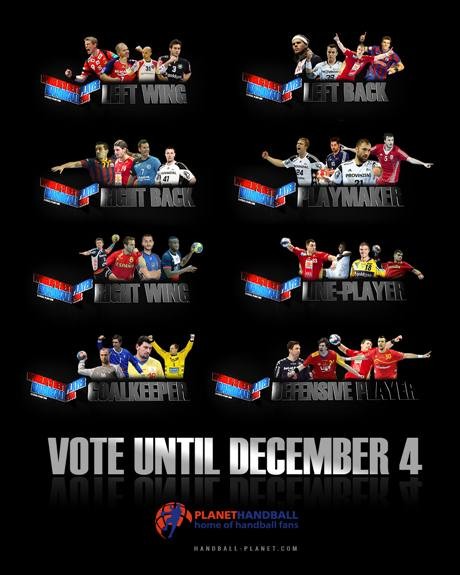 Here is the explanation of the Voting process for the WORLD HANDBALL PLAYER 2014. Handball-Planet.com made the Jury consisted of the handball specialists from 24 countries (most of the Europe, Brazil, Qatar, Japan, etc), while the last member were the visitors of our website (171.050 votes). Journalist voted for their favorites by giving them 3, 2 and 1 vote/point (MVP received 5 points), while the fans' opinion was calculated different with 10, 7, 4 and 1 vote/point per position.
The two players with the biggest support of the fans have got 15 and 12 points – They are Spanish goalkeeper from RK Vardar, Arpad Šterbik (12.817 votes) and his Danish colleague from RNL, Niklas Landin (10,688).
WORLD BEST PLAYER 2014 – LEFT WING
Timur Dibirov(38%, 8,862 Votes) – 10
Anders Eggert(30%, 7,154 Votes) – 7
Uwe Gensheimer (17%, 3,890 Votes) – 4
Gudjon Valur Sigurdsson(15%, 3,559 Votes) – 1
Total Voters:23,465
WORLD HANDBALL PLAYER 2014 – LEFT BACK
Mikkel Hansen(41%, 9,001 Votes) – 10
Momir Ilić (37%, 8,253 Votes) – 7
Serhei Rutenka(14%, 3,173 Votes) – 4
Filip Jicha(8%, 1,710 Votes) – 1
Total Voters:22,137
WORLD HANDBALL PLAYER 2014 – PLAYMAKER
Nikola Karabatic(39%, 6,885 Votes) – 10
Aron Palmarsson(28%, 4,949 Votes) – 7
Domagoj Duvnjak (25%, 4,434 Votes) – 4
Joan Canellas(8%, 1,400 Votes) – 1
Total Voters:17,668
WORLD HANDBALL PLAYER 2014 – RIGHT BACK
Kiril Lazarov (46%, 9,523 Votes) – 10
Laszlo Nagy(39%, 7,961 Votes) – 7
Marko Vujin(11%, 2,159 Votes) – 4
Renato Vugrinec(4%, 884 Votes) – 1
Total Voters:20,527
WORLD BEST PLAYER 2014 – RIGHT WING
Lasse Svan Hansen(36%, 6,547 Votes) – 10
Luc Abalo(28%, 5,145 Votes) – 7
Dragan Gajic (21%, 3,791 Votes) – 4
Victor Tomas(15%, 2,892 Votes) – 1
Total Voters:18,375
WORLD HANDBALL PLAYER 2014 – LINE PLAYER
Renato Sulić(40%, 8,654 Votes) – 10
Julen Aguinagalde(29%, 6,289 Votes) – 7
Bjarte Myrhol (21%, 4,508 Votes) – 4
Cedric Sorhaindo(10%, 2,204 Votes) – 1
Total Voters:21,655
WORLD HANDBALL PLAYER 2014 – GOALKEEPERS
Arpad Sterbik(47%, 12,817 Votes) – 15
Niklas Landin(39%, 10,688 Votes) – 12
Mattias Andersson (8%, 2,270 Votes) – 4
Thierry Omeyer(6%, 1,501 Votes) – 1
Total Voters:27,276
WORLD HANDBALL PLAYER 2014 – DEFENSIVE PLAYER
Gedeon Guardiola(34%, 6,681 Votes) – 10
Timuszin Schuch(30%, 5,941 Votes) – 7
Tobbias Karlsson(25%, 5,013 Votes) – 4
Viran Morros (11%, 2,265 Votes) – 1
Total Voters:19,900
JURY MEMBERS:
Bjorn Pazen (Handball Woche, Germany)
Goran Antevski (Sportmedia.mk, Macedonia)
Peter Zalokar (Delo, Slovenia)
Bent Svele (TV 2, Norway)
Jozsef Simon (Nemzeti Sport, Hungary)
Wojciech Osinski (Przegladsportowy.pl, Poland)
Patrick Andersson (Hbold.dk, Denmark)
Dražen Pinević (Sportske Novosti, Croatia)
Jasmin Tajić (Sport Centar, Bosnia and Herzegovina)
Jorge Dargel (MARCA, Spain)
Tom O Brannagain (EHF TV, Ireland)
Nicholas Chardon (Handnews.fr, France)
Luca Zadra (Pallamano Italia, Italy)
Yuki Hattori (Japanese Handball Magazine, Japan)
Sergey Novikov (Pressball.by, Belarus)
Johan Flinck (Aftonbladet, Sweden)
Hans Hugentobler (Handballworld.ch, Switzerland)
Rui Guimaraes (O Jogo, Portugal)
Hernan De Lorenzi (Handball De Primera, Argentina)
Marian Ursescu (GAZETA SPORTURILOR, Romania)
Blilel Alouini (Al Jazeera, Qatar)
Torsteinn Haukur Hardason (Sport.is, Iceland)
Thierry Gozzer (Globoesporte.com, Brazil)
Života Bogdanović (Balkan-handball.com, Serbia)