JAPAN 2019 – France and Hungary are out! Dutch girls beat Norway after 20 years!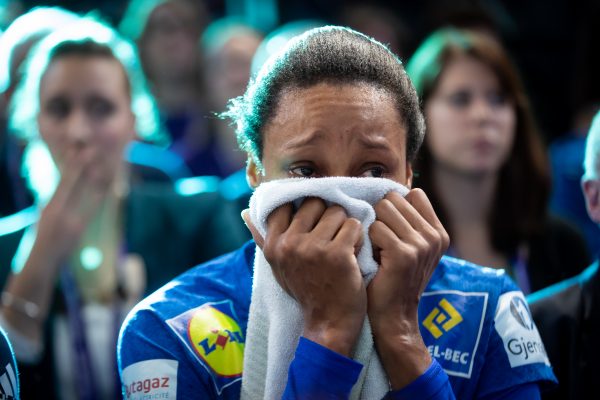 The reigning European and World Champions – France, are out of the World Championship 2019 in Japan!
The French team have lost the decisive battle against Denmark 18:20 to lose ticket for Main Round.
Hungary are also out after Cristina Neagu goal for 28:27 win of Romania.
Here are the complete results of Preliminary Round.
Group A:
November 30:
Serbia – Angola 32:25
Netherlands – Slovenia 26:32
Norway – Cuba 47:16
December 2:
Cuba – Serbia 27:46
Angola – Netherlands 28:35
Slovenia – Norway 20:36
December 3:
Netherlands – Cuba 51:23
Slovenia – Angola 24:33
Norway – Serbia 28:25
December 5:
Cuba – Slovenia 26:39
Serbia – Netherlands 23:36
Norway – Angola 30:24
December 6:
Serbia – Slovenia 29:27
Angola – Cuba 40:30
Netherlands – Norway 30:28
STANDING
1.

Netherlands W

5
4
0
1
178:134
8

2.

Norway W

5
4
0
1
169:115
8

3.

Serbia W

5
3
0
2
155:143
6

4.

Angola W

5
2
0
3
150:151
4

5.

Slovenia W

5
2
0
3
142:150
4

6.

Cuba W

5
0
0
5
122:223
0
Group B:
November 30:
Germany – Brazil 30:24
France – South Korea 27:29
Denmark – Australia 37:12
December 1:
Brazil – France19: 19
Australia – Germany 8:34
South Korea – Denmark 26:26
December 3:
South Korea – Brazil 33:27
France – Australia 46: 7
Denmark – Germany 25:26
December 4:
Australia – South Korea 17:34
Germany – France 25:27
Denmark – Brazil 24:18
December 6:
Brazil – Australia 31: 9
Germany – South Korea 27:27
France – Denmark 18:20
1.

South Korea W

5
3
2
0
149:124
8

2.

Germany W

5
3
1
1
142:111
7

3.

Denmark W

5
3
1
1
132:100
7

4.

France W

5
2
1
2
137:100
5

5.

Brazil W

5
1
1
3
119:115
3

6.

Australia W

5
0
0
5
53:182
0
Group C:
November 30:
Montenegro – Senegal 29:25
Hungary – Kazakhstan 39:15
Romania – Spain 16:31
December 1:
Kazakhstan – Montenegro 21:30
Senegal – Romania 24:29
Spain – Hungary 29:25
December 3:
Hungary – Montenegro 24:25
Spain – Sengal 29:20
Romania – Kazakhstan 22:20
December 4:
Montenegro – Romania 27:26
Kazakhstan – Spain 16:43
Hungary – Senegal 30:20
6.12:
Senegal – Kazakhstan 30:20
Montenegro – Spain 26:27
Romania – Hungary 28:27
1.

Spain W

5
5
0
0
159:103
10

2.

Montenegro W

5
4
0
1
137:123
8

3.

Romania W

5
3
0
2
121:129
6

4.

Hungary W

5
2
0
3
145:117
4

5.

Senegal W

5
1
0
4
119:137
2

6.

Kazakhstan W

5
0
0
5
92:164
0
Group D:
November 30:
Japan – Argentina 24:20
Russia – China 26:11
Sweden – DR Congo 26:16
December 2:
Argentina – Russia 22:35
DR Congo – Japan 16:28
China – Sweden 19:32
December 3:
Russia – DR Congo 34:13
China – Argentina 28:34
Sweden – Japan 34:26
December 5:
DR Congo – China 25:24
Japan – Russia 23:33
Sweden – Argentina 30:23
December 6:
Japan – China 35:18
Argentina – DR Congo 25:16
Russia – Sweden 30:22
1.

Russia W

5
5
0
0
158:91
10

2.

Sweden W

5
4
0
1
144:114
8

3.

Japan W

5
3
0
2
136:121
6

4.

Argentina W

5
2
0
3
124:133
4

5.

D.R. Congo W

5
1
0
4
86:137
2

6.

China W

5
0
0
5
100:152
0
Mandatory Credit © Anze Malovrh / kolektiff