With the 24th running of the Men's Handball World Championships about to take place in Qatar later this week, leading handball footwear specialist Mizuno drop a fresh new look to their range of elite indoor shoes. Taking inspiration from the Qatari landscape (sun, sand and sea!), Mizuno has reflected this on their 3 most popular silo's – the Wave Stealth 3, Wave Lightning Z and Wave Tornado 9. We take a closer look at each one in more detail:
Wave Stealth 3 – Explode into Action
For agile, stealth-like movement, Wave Stealth 3 is the ideal shoe for the modern day handball player. The outsole and midsole have been designed to provide support, cushioning and flexibility and to cope with the aggressive, high impact movements of the sport. On the lateral side of the outsole a stability bar acts as more than just scaffolding.  Working in conjunction with two deep grooves it gives stability for lateral cuts, but also great flexibility for those multi directional movements around court.
The toe area is enhanced by a cut between the big toe and little toes on the outsole, allowing for more pressure and therefore more feeling, resulting in extra agility and spring. Other new features for Wave Stealth 3 include a pivot point under the ball of the foot for ease of movement and turns. And extra comfort and cushioning is provided by Mizuno's SR Touch technology in the forefoot for lightweight cushioning and rebound.
One of the most popular handball shoes of its time, the Mizuno Wave Stealth is a force to be reckoned with. Coming with an impressive heritage this is a shoe with a difference, taking pride of place in the range of Mizuno handball shoes with a design that ensures it performs on every level.
As worn at Qatar 2015 by Lasse Svan Hansen (Denmark), Jesper Noddesbo (Denmark), Marko Kopljar (Croatia), Manuel Strlek (Croatia), Jakov Gojun (Croatia), Jorge Maqueda (Spain), Raul Entrerrios (Spain), Jure Dolenec (Slovenia) and Kentin Mahe (France)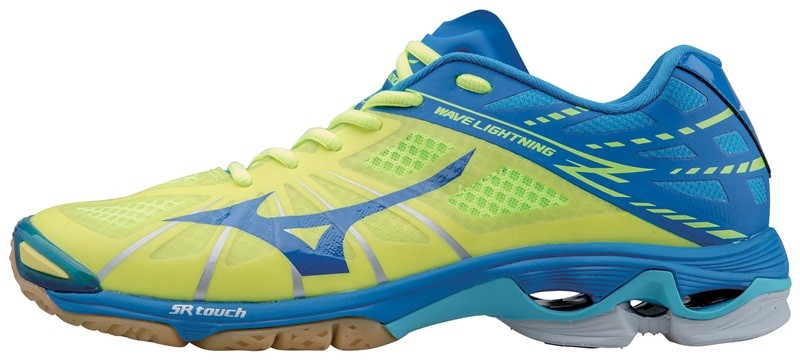 Wave Lightning Z – Superlight & fast court agility
A lightweight offering for quick agile players, Wave Lightening Z comes in at 10g lighter than its predecessor the RX3. What it has lost in weight it has gained in construction, with an enhanced no-sew upper providing unrivalled fit and feel during play. Wave Lightening Z is a shoe that always delivers on rebound and provides the lightweight performance that handball player's demand. Also available in a MID cut boot option for players looking for that extra ankle support.
As worn at Qatar 2015 by Dragan Gajic (Slovenia), Kevynn Nyokas (France), Ivan Cupic (Croatia), Robert Gunnarsson (Iceland), Gasper Marguc (Slovenia) and Cristian Ugalde (Spain)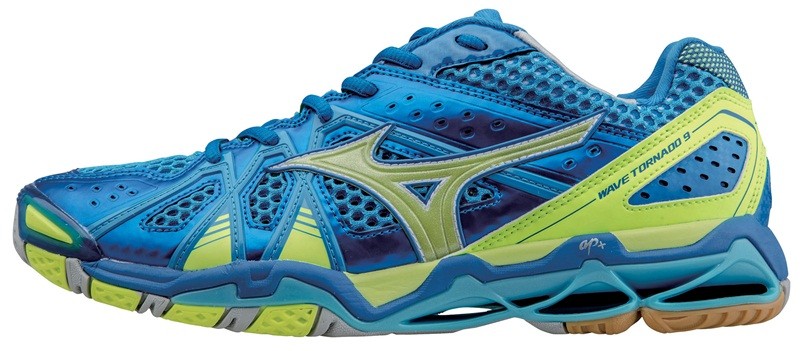 Wave Tornado 9 – The powerhouse shoe, cushioned and stable
The powerhouse of the handball range, the Wave Tornado 9 is the shoe that offers players unrivalled levels of cushioning and stability. The supportive upper offers up a combination of a big open wave mesh for breathability but also very supportive synthetics; a construction that allows the foot to be held firmly in the shoe. The Wave Tornado 9, two key areas – the outsole and midsole – have been improved from the previous model. In the outsole, a new feature is the improved design of the Dynamotion Groove™, an innovative outsole design and construction that combines stability and flexibility to give fast-moving yet super-agile movement across the court. The flex groove allows for greater grip and stability for lateral cuts whilst a new circular pivot point positioned under the ball of the foot allows for swift turns. The AP+ midsole has superior rebound and cushion durability while maintaining lightweight performance. And in Wave Tornado 9 extra SR Touch in the forefoot makes for an even better, and more cushioned landing.
As worn at Qatar 2015 by Igor Vori (Croatia), Viran Morros (Spain), Guillaume Joli (France), Bo Spellerberg (Denmark) and Patrik Fahlgren (Sweden)
"Lasse Svan Hansen is a brand ambassador for Mizuno Handball and will be wearing the new neon yellow/blue Wave Stealth 3. For your chance to win a pair go to http://www.mizuno.eu/static/42681/qatar"