EHF
Nantes Atlantique Handball win EHF European League 2021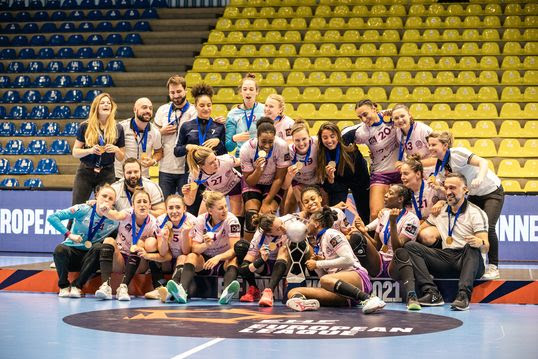 Nantes Atlantique Handball made history by becoming the first team to lift the EHF European League Women trophy after a brilliant 36:31 victory over Siófok KC in Sunday's final.
Having come through the final phase of qualification the French side beat off all the competition to lift their first ever European handball title in the maiden season of the new second-tier competition.
Nantes ended Siófok's 17-match unbeaten run in European matches – a sequence stretching back to a defeat against the French side back in November 2019.
Winning coach Guillaume Saurina said: "When we arrived here, I told the girls that this is a big event, but we only have to play handball. These are just two handball games and handball is what you do best. Let's play, we will cry after. And this is what they did, they were amazing, they respected the plan.
"There were a lot of historic things for us, it is unbelievable, I am trying to explain my president that this was not a normal season, because I do not want him to expect such seasons year after year."
It was a double celebration for Nantes' Bruna De Paula as the centre back was named MVP.
The Brazilian said: "What we achieved is amazing and I believed from the start in our team. When the mood is good outside the court, things work also on the court. I was never afraid about this challenge, because I know what we can do. I am proud and happy and I am at a loss for words."
Bronze for Baia Mare
In the bronze medal match hosts Baia Mare had goalkeeper Filippa Idehn to thank as an inspired performance from the Swede in the closing stages helped the Romanian side to a 33:31 victory over Herning-Ikast.
Herning-Ikast led by three goals at the break but, after missing a series of important chances in the second half – the Danish side hit the post five times – it was Costica Buceschi's side who rallied in the second half to complete the turnaround and take third place.
It was a victory that Buceschi dedicated to the Baia Mare fans who were unable to celebrate the success in the arena.
Although Herning-Ikast finished fourth, their Norwegian centre back was awarded the overall top scorer award for the season's competition with 61 goals.