National team week ahead involving 33 BHL players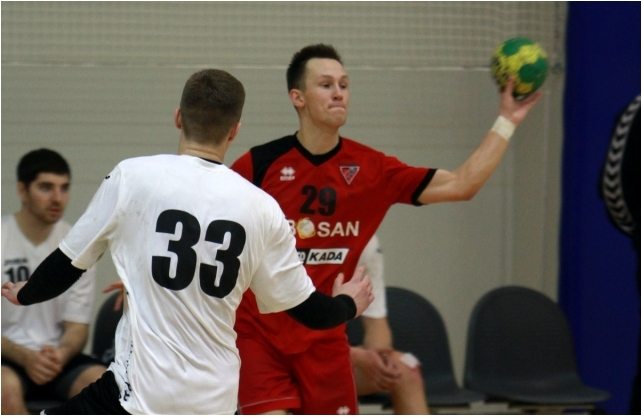 With a very important national team week starting as EURO 2020 qualiying matches continue, we look back to some action from domestic leagues last week. In addition, 11 of the 12 BHL clubs have players joining their respective national teams and no fewer than 33 BHL players have been called up by their countries.
Two of BHL's Final Four teams had relatively easy wins last week, as ZTR Zaporozhye defeated Donbass Donetsk region 33:23 (Andrii Akimenko 6 goals) and having already secured first place before play-offs Cocks Riihimäki beat Grankulla IFK 31:23 (Teemu Tamminen 9).
Two BHL teams in Latvian league final!
The most important matches were played in Latvia, as in both semi-finals the score was 1:1. BHL teams escaped the difficult situation with flying colours. Defending champion ZRHK Tenax Dobele took a 30:20 win (Andis Ermanis 7) over HK Ogre and Celtnieks Riga beat SK Latgols Ludza by 30:23 with their recent Russian signing Yuri Pischukhin scoring five goals.
In Estonian league, the last matches of the second stage of the competition were played and it was a fascinating finale with two most decorated teams contesting to finish in first place. Serviti Põlva and HC Kehra/Horizon Pulp&Paper both had 33 points and played eachother in Kehra.
Serviti run away with a 8:2 lead, but Kehra fought back and Latvian international Uvis Strazdinš put them ahead 17:16 in the 38th minute. The hosts extended the lead to four goals, but Serviti had one more gear in their engine and they came back squeezing a 25:24 victory (Henri Sillaste 10 – Strazdinš 9).
Two other BHL sides also finished with a win. Viljandi HC beat HC Viimsi/Tööriistamarket 32:29 (Sergei Rodjukov 10) and HC Tallinn took a 32:18 win (Uku-Tanel Laast 9) over Coop Põlva. Tallinn will now meet SK Tapa and Viljandi plays Coop in the quarter-finals, Serviti and Kehra qualified directly to semi-finals.
Cocks provides seven players to five different national teams
All six countries involved in BHL will play two EURO 2020 qualifying matches this week. All teams are in desperate need of points, as none of them started with two wins last autumn. Latvia, Belarus and Ukraine have one win and one defeat, while Estonia, Lithuania and Finland lost both opening matches.
No fewer than 33 BHL players have been called up with Latvia having a total of nine in their squad, representing four clubs. On club side, BHL's most international team Cocks obviously also provides the most players to national teams – a total of seven in five different countries! Only Estonia has no member of the BHL champions in their squad.
Finland will play Bosnia and Herzegovina twice with Teemu Tamminen, Roni Syrjälä and Nico Rönnberg from Cocks in their squad list. Ukraine is meeting Faroe Islands home and away with four ZTR boys and Oleksandr Kyrylenko from Cocks included.
SKA Minsk provides five players for Belarus, who have also called up Yury Lukyanchuk from Cocks, as they meet the upcoming power of Czech Republic. Lithuania is facing Romania home and away with a new head coach in Mindaugas Andriuška and one player each from three local BHL clubs, plus goalkeeper Giedrius Morkunas from Cocks.
And then there is the big Baltic-derby with Estonia and Latvia meeting eachother twice in the 4th group of EURO 2020. Estonia has six BHL players in the squad with four coming from Serviti and Latvia relies heavily on BHL players – 3 from Celtnieks, 4 from Tenax, plus Nils Kreicbergs of Cocks and Uvis Strazdinš of Kehra.
On photo: Raitis Purinš (Celtnieks) and Andis Ermanis (Tenax) will meet again in league final, but this week are on the same side for Latvian national team. (Photos: BHL).