Serviti and ZTR leading the groups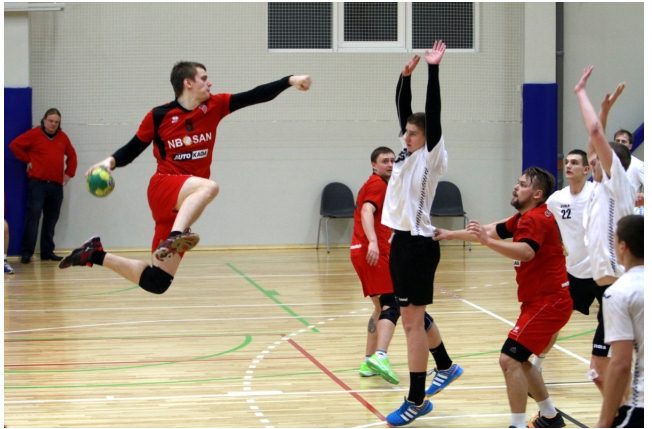 Weekend in Baltic Handball League offered everything – tough battles, one-goal wins, draws and some clear superiorities. Curiously only two teams out of ten in action managed to take four points – Serviti Põlva and SKA Minsk won both their games, while ZTR Zaporozhye also continues to be unbeaten.
Four games in Group B saw Serviti take maximum points from Lithuanian trip and go on top of the table. Estonian champion now has 5 points with title-holder Cocks Riihimäki following on 4 points, but having one game in hand. The other teams are not far away either: Tenax Dobele has 3, Granitas-Karys Kaunas 2, while VHC Šviesa Vilnius remains the only club without points.
In Group A, ZTR held on to their leadership, but lost a first point. The Ukrainian newcomer of BHL now has 7 points, three-time champion SKA and HC Kehra/Horizon Pulp&Paper follow with 4 points and the Estonian side has one game less played. Viljandi HC and Celtnieks Riga have 2 and Dragunas Klaipeda 1 point.
Musting: "I don't often say this, but we played very well"
Serviti travelled to Lithuania and had the toughest match on Saturday against Granitas-Karys. For most of the first half Estonian champion was trailing, but still managed to end up 14-11 ahead. "We had problems with Granitas' aggressive defence, but at the end Kristjan Muuga made some good interceptions and scored two goals himself," explained Serviti's head coach Kalmer Musting.
"Second half was a very tactical game, but it seems we managed to stay one step ahead of our opponents," added Musting. "I don't often say this, but we played really well – the defence was good, Muuga and Roman Aizatullov led the attack and perhaps only goalkeepers could have played better."
Serviti won 29-24 (Muuga 8 – Vaidas Drevinskas 13 goals) and moved to Vilnius for the second match. Local VHC Šviesa did not provide the same level of opposition and Serviti recorded a comfortable win by 39-28 (Henri Sillaste 7 – Valdas Drabavičius 7).
"It was difficult to play second game in two days, but fortunately it was the same for Lithuanians. We decided the match in the first five minutes of the second half and I could use younger players for the rest of the match. I am very satisfied with the four points from this trip," completed Musting.
Granitas and Tenax recorded opening wins of the season
Granitas-Karys bounced back well from Saturday's defeat and hosting Latvian champion Tenax on Sunday, recorded their first win of the season by 28-22 (Modestas Štarolis 12 – Egils Politers, Oskars Arajs and Andis Ermanis 4). "We did a good analysis of the first game, the players took note and performed very well," commented Valdemaras Novickis, the head coach of Granitas-Karys.
"On Saturday, we played quite badly, I have to admit. I believe we lost the ball too simply on 16 occasions, Põlva had 10 quick counter-attacks, scoring 8 goals from these," analysed the Olympic champion from 1988. "Two different games, but both gave us good experience, which is exactly what our young team needs."
Tenax had also managed to take their first win of the season the day before, as they beat Šviesa away 29-28 (Arajs 9 – Drabavičius 10). "It was a very good and tight game. Šviesa is a young team, but they played well and for the most of the match we were behind. Only in the final minute Arajs grabbed the winning goal for us," said the head coach of Tenax, Sandris Veršakovs.
"We had never before beaten Šviesa in BHL, so this win tasted very good," added Veršakovs. "On Sunday everything went against us – Ansis Bilkštis was injured during the warm-up, so we lost our key playmaker, while Egils Politers also suffered a minor injury. We also did a lot of mistakes and could not keep the same level as on Saturday."
Tough weekend for ZTR
Probably the toughest weekend of all teams fell on ZTR Zaporozhye. The newcomers of the BHL, who started with two wins six weeks ago had to make a long travel in the first place, but then had a late start in Riga, which resulted in arrival to Klaipeda only at 2:30 in the night.
On Saturday, ZTR managed to beat Celtnieks 31-24 (Andrii Akimenko and Oleksii Ganchev 7 – Arturs Lazdinš 8), but the day later a 25:25 draw (Lukas Simenas 5 – Ganchev 7) was all they could get out of the match against Dragunas Klaipeda.
The match was a true thriller with the lead changing constantly, but even half-time score was even – 14-14. Midway through the second half ZTR had a 22-19 lead, but Dragunas bounced back and went ahead 24-23. Goals from Maksym Karamyshev and Ganchev seemed to turn it again, but Gabrielius Virbauskas equalized from the 7-metre mark.
"These matches are hugely important for our club, so we have to be very grateful that BHL invited us to participate," commented ZTR's head coach Vitaliy Nat to club's website. "Before our EHF Cup matches this was perfect preparation. Of course we are tired, but I am happy how the players responded and fought, especially in the second game!"
Celtnieks' Lazdinš is the leading scorer
The draw remained Dragunas's only point of the weekend, as on Saturday they lost to SKA Minsk by 26-33 (Simenas 7 – Uladzislau Kulesh 9). The three-time winner SKA, who started the season with two defeats, brought their first team to the Baltics this time and also beat Celtnieks on Sunday by 40-26 (Aliaksei Shynkel and Artur Karvatski 6 – Lazdinš 12).
| | | | | | | | | |
| --- | --- | --- | --- | --- | --- | --- | --- | --- |
| 1 | ZTR Zaporozhye | 4 | 3 | 1 | 0 | 117:89 | 28 | 7 |
| 2 | SKA Minsk | 4 | 2 | 0 | 2 | 124:118 | 6 | 4 |
| 3 | HC Kehra/Horizon Pulp&Paper | 3 | 2 | 0 | 1 | 78:84 | -6 | 4 |
| 4 | Viljandi HC | 3 | 1 | 0 | 2 | 77:77 | 0 | 2 |
| 5 | Celtnieks Riga | 3 | 1 | 0 | 2 | 77:96 | -19 | 2 |
| 6 | Dragunas Klaipeda | 3 | 0 | 1 | 2 | 76:85 | -9 | 1 |
Another hot Group A match on Saturday took place in Kehra, where two Estonian teams met. HC Kehra/Horizon Pulp&Paper beat Viljandi HC 26-23 (Dmytro Yankovskiy 6 – Kristo Voika 6), despite losing the first half by 11-13.
On statistical front, Celtnieks' Arturs Lazdinš is the best scorer of the league so far. He has scored 33 goals in just three games and is followed by Oleksii Ganchev (ZTR) with 28 and Vaidas Drevinskas (Granitas-Karys) with 24 goals. The BHL resumes already in four weeks time, when another eight matches will be played in Viljandi, Kehra, Põlva, Dobele, Vilnius and for the first time in BHL history, in Zaporozhye.
| | | | | | | | | |
| --- | --- | --- | --- | --- | --- | --- | --- | --- |
| 1 | Põlva Serviti | 3 | 2 | 1 | 0 | 94:78 | 16 | 5 |
| 2 | Riihimäen Cocks | 2 | 2 | 0 | 0 | 66:43 | 23 | 4 |
| 3 | Tenax Dobele | 3 | 1 | 1 | 1 | 77:82 | -5 | 3 |
| 4 | Granitas-Karys Kaunas | 3 | 1 | 0 | 2 | 76:84 | -8 | 2 |
| 5 | VHC Šviesa Vilnius | 3 | 0 | 0 | 3 | 75:101 | -26 | 0 |
Full schedule: http://www.baltichandball.net/calendar