EHF
SG BBM Bietigheim win EHF European League 2021/2022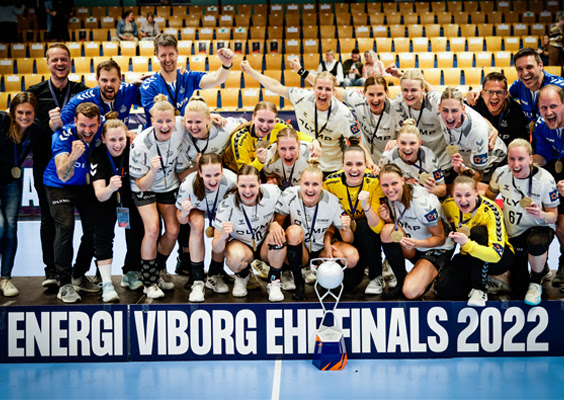 Flawless SG BBM Bietigheim earned their maiden international trophy with a 31:20 win against Viborg HK in Denmark on Sunday evening.
The German Bundesliga champions won both matches in Denmark over the weekend to make it 50 consecutive wins in domestic and European competition.
Taking into account the two games from qualification round 3 against Tertnes Bergen, Bietigheim built a 12-game winning streak in the EHF European League Women on their way to the title after one of the best-ever seasons from any team in the second-tier European competition.
The German side boasted the most effective defence — conceding an average of only 23 goals per game — and stellar attack, led by Dutch pair Inger Smits and Kelly Dulfer.
In the final against hosts Viborg, one 6:0 run and another 5:0 unanswered run were the backbone of Bietigheim's success. The victory enabled coach Markus Gaugisch's team to become the first German side to clinch the trophy in the second-tier European competition in 30 years, after Leipzig achieved that feat in the 1991/92 season.
Bietigheim, whose Xenia Smits was named tournament MVP, are also the only side to clinch the trophy without dropping a single game in the last 30 years.
Markus Gaugisch, Bietighiem head coach, said: "It was a hard job, but I am very happy and I am so proud of the girls. They did well; stayed focused throughout the game. We played with a lot of heart, a lot of speed and we found good solutions in attack. It was a perfect day for us."
Viborg's Kristina Jörgensen finished the EHF European League Women top scorer with 72 goals.
The centre back said: "We are very disappointed right now, but we are still a young team, with players that will grow and learn from this experience. We stood no chance — Bietigheim were awesome. In a few days, I want to look back and smile about this season."