SKA and ZTR start with two wins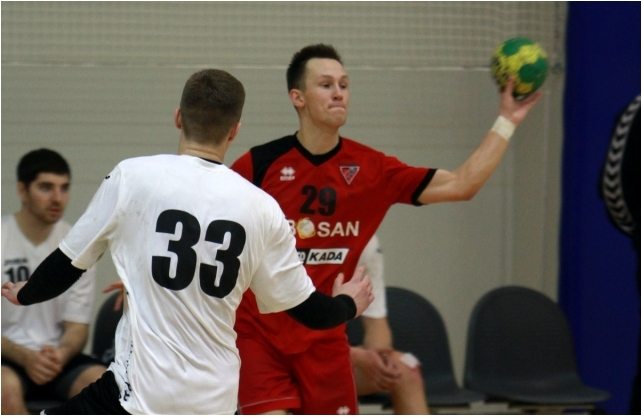 Exciting first full weekend of the Baltic Handball League's 2017/18 season is behind us, nine games offered some really tight matches, some little surprising results, great individual efforts and interesting group standings in the end – in one word, everything that was expected!
With title-holder Cocks Riihimäki already starting their season few weeks ago, last season's two other Top 3 teams SKA Minsk and ZTR Zaporozhye played their first games this weekend. And the two medallists from 2016/17 probably had a harder trip to Latvia and Lithuania, than they expected.
SKA happy with four points and return of BHL action
Three times BHL champions SKA Minsk took the biggest win of the season so far on Saturday, as they destroyed Granitas-Karys Kaunas 40-24 (Mikita Vailupau 11 – Mindaugas Urbonas 6), but the day later the Belarussians had to face the fighting spirit of Celtnieks Riga. Having won all previous 8 games in BHL history with an average goal difference of 13 goals, SKA probably hoped for an easier day.
However, it was a different story. Celtnieks kept SKA close, Arturs Lazdinš was almost unstoppable and even if they lost the first half by 14-17, the match was far from over. The hosts started the second half with a 4-1 spell and put a draw on the scoreboard. The fight was tight until the very end, when SKA eventually took a 30-26 win (Vailupau 6 – Lazdinš 12).
Team manager of SKA, Oleg Lebedev was happy with the trip to the Baltics: "We took four points, which was the goal. Celtnieks put up a good fight, but we did used mostly the younger players on Sunday. The only negative is that our line-player Viachaslau Bokhan was injured. But in general it was a successful trip and we are happy to be back in the BHL."
HC Tallinn's historic debut ended with a defeat
Last year's finalist ZTR visited Riga first and beat local Celtnieks by 29-26 (Oleksii Ganchev 9 – Lazdinš 9 goals). At the start of the second half, the Ukrainians already had a 18-10 lead and the game seemed to move in similar patterns as last season, but the Latvians showed incredible fighting spirit and with three minutes to go, cut the deficit to 28-26, but lost.
On Sunday, ZTR even fell behind against Granitas-Karys when they could not stop Paulius Šarkauskas scoring three goals in a row, but took the reigns and eventually run away with a comfortable win 27-17 (Šarkauskas 5 – Andrii Akimenko 6). Two wins out of two put ZTR second in Group B due to goal difference.
The remaining Group B match on Sunday was a historic one, as it witnessed the debut of a new club in our competition. HC Tallinn made the debut against an "veteran" of the BHL, Serviti Põlva. The latter took a fairly comfortable win by 33-25 (Roman Aizatullov 8 – Sander Sven Annula 5), having a lead of 13 goals with nine minutes to go.
Šviesa's Raimondas Maldžius unhappy with team's discipline
In Group A, the weekend had an interestic outcome – four teams ended all up with one win and one defeat! On Saturday, VHC Šviesa Vilnius – having only recorded one win in their last 20 BHL matches – beat last season quarter-finalist Viljandi HC away by the narrowest of margins, 27-26 (Valdas Drabavičius 11 – Robert Lõpp 11).
Travelling south on Sunday, Šviesa could not back this up and lost against ZRHK Tenax Dobele 23-32 (Karolis Antanavičius 7 – Austris Tuminskis 9), despite a 14-14 draw at half-time. Head coach of Šviesa, Raimondas Maldžius was very unhappy with his team.
"I think the players imagined they can take a second win easily and we seriously lacked discipline in the team," said Maldžius. "For us, this weekend was an important preparation for the EHF Challenge Cup matches, but as a team we need to play better. Against Viljandi we only won due to very good individual performances in attack and good defence. With several new players, we have to improve our attacking team play a lot!"
Viljandi HC turned the result around on Sunday
Viljandi literally turned things around on Sunday, beating Dragunas Klaipeda by the same score, they had lost the previous day – 27-26 (Lõpp 11 – Laurynas Palevičius 11). Dragunas had took a comfortable win day earlier over Tenax, by 30-19 (Palevičius 5 – Tuminskis 6).
"Two similar games, when we at times played really well and then lost the initiative and made too many mistakes," commented Marko Koks, the head coach of Viljandi. "On Sunday, I have to admit we were very fortunate, as the Lithuanians missed easy chances and twice even did not hit the empty goal. Our goalkeeper Rasmus Ots was excellent, plus I was very happy with the fighting our players showed throughout the weekend."
BHL will have the next full weekend on 11th-12th November, but in between two matches will also be played separately with Cocks Riihimäki hosting HC Kehra/Horizon Pulp&Paper on 22nd October, while ZTR and SKA meet in Zaporozhye on 4th November.
On the photo: Captain of VHC Šviesa, Valdas Drabavičius helped his team to a victory of Viljandi HC with 11 goals.