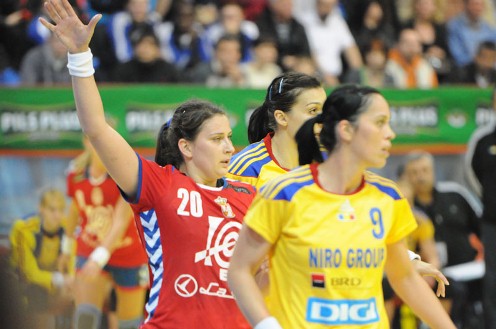 After five years Serbia defeated Romania 29:27 (17:11) in one official match. A lot of reasons for satisfaction and joy of Serbian players after winning the "first half" of battle for the first place in EHF EURO 2012 qualifying Group 2.
– We are extremely happy. Our wish and motivation was too big from the first minute of the match. Girls showed fighting spirit, we played good defense, fast attack – says Serbian line-player, "heart" of 6:0 defense, Sladjana Pop Lazic.
After fantastic 50 minutes and +7, in last part of the match, Romania got back in the match and made the last minutes uncertain.
– Maybe we became relaxed in the last 10 minutes.We knew that win is ours and that isn't something about we can be happy. It's very important that we are aware of that.
At three last EHF EURO Championships, Serbia lost all nine matches. Triumph against Romania mean much more than "two points".
– Of course. This is big success for us, expecially, a year before World Championships in Serbia. When we play with 100%, Serbia is danger for the TOP European NT. We showed that high goals are reachable only if our team spirit is high.
In second match against Romania in Turn Severin (Saturday -18h), you have nice chance to win the group?
– Sincerely, I think that we are ready for that, even Romania is one of the best teams in Europe. Our biggest force is unity. Every ball is worth to jump, every attack is important. With that philosophy, we are preparing for the next match…