Sydney Uniare Australian handball champions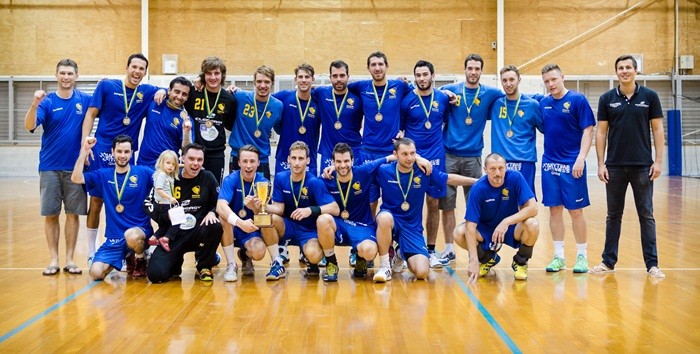 Sydney Uni HC has edged one step closer to qualifying for the IHF Super Globe, the club world championships in Qatar. The team of German coach Philipp Enders beat club St Kilda HC in the final of the Australian club championships 34:28. With this title, Sydney Uni qualifies for the Oceania Club Championships in June, where the continental representative for the IHF Super Globe will be determined.
Over the last weekend Sydney Olympic park was host to the Australian Handball Club Championships, in which the four best club teams met to crown the national champion, but also determine Australia's representative at the Oceania Club Championsships which will be held in New Caledonia in June. As the defending Oceania club champions, Sydney Uni certainly started as favourites into the tournament – not least because of the international experience the club has gained over the last two years.
Coach Philipp Ender's team absolutely fulfilled expectations in the group phase of the tournament – having unmatched depth to its squad and playing fast, direct handball. All three opponents were beaten relatively clearly – St Kilda 30:22, Hills HC was only able to keep up for one half before going down 32:21, and Logan Wizards were disposed of 30:16. There was no indication that Sydney Uni would be seriously challenged when meeting St Kilda again in the final. But the reality was very different.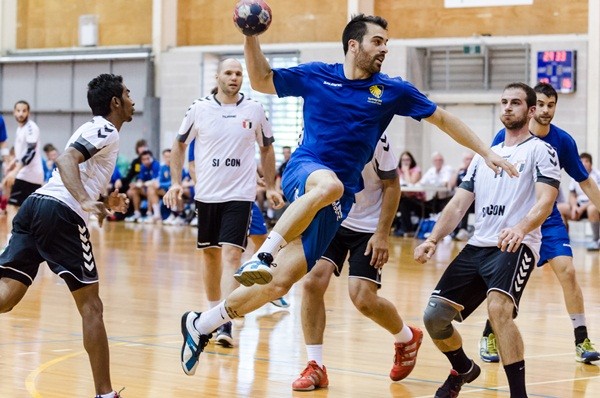 The team from Melbourne had done their homework and offered much more resistance than in the earlier encounter, drawing from the tactical maturity of their experienced players. Lead by former National team player VeliborVujaklija and Serbian BratislavStankovic, a formerly player of Nis, Bologna and Partizan Belgrade in the ECL, they played very cleverly and to their strengths. With an aggressive defence on Sydney Uni's left they successfully stopped the flow in Enders' team, and forced Sydney Uni into unprepared shots. Sydney was somewhat unlucky with several hits to the post too – and whatever was on target was taken care of by former Sydney Uni goalkeeper Thomas Gerstch. The result was a 5 goal deficit just before half time – not what anyone had anticipated.
The boys in blue and gold picked themselves up in the second half though, putting their game plan to practice – hard defence, good rotation and flow in attack, plus fast starts. 15 minutes from the end, Sydney Uni had overcome the deficit and one could sense that St Kilda was strugglingto keep up with the pace and intensity. Just as the game was about to tip though, Sydney Uni missed their 'big points' again – which left the game in open right up to the wire. Sydney Uni was eventually even lucky to save a draw into overtime when St Kilda missed a fast break just 15 seconds from the end.
Sydney Uni's superiority in terms of fitness, pace and agility finally came to fruition in overtime, during which Enders' boys created a margin of six goals and were finally able to celebrate their title.
Coach Philipp Enders stated after the final: "All in all we were certainly the best team of the tournament, but boy the final was hard work. After being unlucky with many of our shots, fate was on our side in the dying seconds of regular time." He asked to consider the youth of his team though, saying that "Llorente, Aubard, Gavidia, Matic, Lennstrom und Szklarski are all just 21 to 24 years old – they have certainly learned a lot today!" He attributed the victory to the fantastic team spirit, adding with a smile: "If your team consists of such a diversity of players – Australians, French, Spanish, Germans, Poles, Swedish, Iranians and Argentinians – you can't necessarily expect that they get themselves out of such a pickle. But we have a really good bunch of guys here, and they dig deep for oneanother."
As a result, Enders is quite confident for the Oceania Club Championships in New Caledonia in June, where Sydney Uni will be contesting the continental ticket for the IHF Super Globe. "We have good depth in our squad, particularly since there's 2 or 3 more signings we'll be announcing in the coming weeks. The only question mark is our right back, where we're still looking for a strong left handed shooter."
Additionally, the club wants to step up its marketing in order to create an even more professional environment for handball in Sydney. "We're getting so much attention now in Europe and the Middle East" he says, "we're really hoping we can get a sponsor on board who'd like to benefit from the broad media exposure internationally – and who's keen to be part of our exciting endeavour."
Sydney Uni can be contacted via [email protected]