EHF
The 2nd HANDBALL TALKS conference in Nasice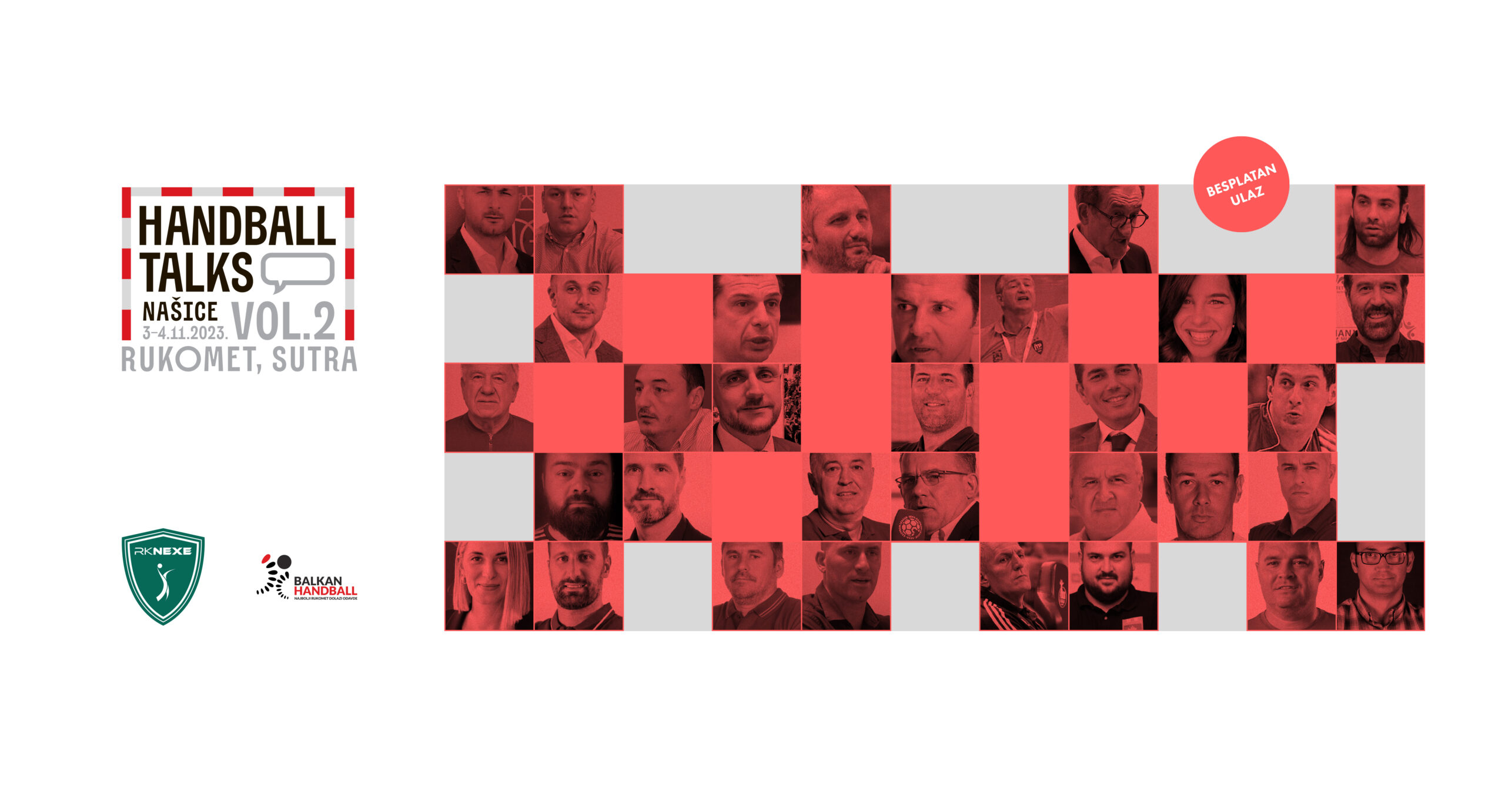 The second HANDBALL TALKS conference, organized by the most famous regional handball portal Balkan-Handball.com and with the technical support of RK Nexe, will be held in Našice on the November 3/4. The big names of handball from the Balkan region will gather in the hall of the "King Tomislav" for a two-day event to discuss the most important topics that have made this sport one of the most successful and popular over the past several decades.
Olympic and world champions like Ivan Balić, Lina Červar, Veselin Vujović, Mirza Džomba, Vedran Zrnić, Igor Vori, Slavko Goluža, world-renowned aces like Dragan Škrbić and Marko Vujin, coaches of teams that play in international cups, directors and presidents of the best clubs from the region from Celje PL and Gorenje, Nexe Zagreb, Vojvodina and Vardar, some of the best player's agents in the world of handball, leading people of the EHF and SEHA Gazprom League, experts in working with younger categories, media experts and marketing experts, all in one place at the event under the name "Handball, tomorrow" will try to shed light on various tendencies in this trophy sport from their perspective.
At nine different panels and presentations, more than 30 guests will talk about all aspects of handball as a sport and business.
They will continue where the participants of the first HANDBALL TALKS conference held in March 2022 in Belgrade, where many eminent guests from the world of handball spoke, including Vlado Štencl, Milan Lazarević, Goran Šprem, Toni Đerona, Žarko Šešum, Rastko Stojković. , Darko Stanić, Nedeljko Jovanović…
The program starts on Friday at 10:30 a.m. and lasts until 7:00 p.m., while on Saturday, November 4, it will last from 10:00 a.m. to 2:00 p.m.
Entry to the Handball Talks conference is free.
All handball players from the region are more than welcome to come and spend two interesting days in Croatia at an event that has not yet been seen in this region.
PROGRAM:
DAY 1
10:30 – 11:45 "Today's coach" – Alem Toskić (RK Celje Pivovarna Laško), Toni Čolina (RK Izviđač Agram), Slavko Goluža, Vladan Matić (RK Metaloplastika Elixir) and Branko Tamše (RK Nexe)
12:00 – 12:50 "EHF and the region" – Božidar Đurković (EHF/SEHA) and Siniša Ostoić (SEHA)
13:05 – 14:20 "Stories from the dressing room" – Dragan Škrbić, Ivano Balić, Marko Vujin and Mirza Džomba
PAUSE
15:20 – 16:10 "Agent – the eighth player?" – Andrej Golić and Milan Jokić
16:25 – 17:45 "Dream Big" – Borko Ristovski (RK Vardar 1961), Vedran Šupuković (RK Zagreb), Darko Jevtić (RK Vojvodina), Roman Pungartnik (RK Gorenje) and Miro Benicki (RK Celje Pivovarna Laško)
18:00 – 19:00 "NEXE 2.0" – Josip Ergović (President), Igor Bušljeta (Executive Director) and Vedran Zrnić (Sports Director)
DAY 2
10:00 – 11:00 "Handball in the media – "Why are there/are we not?" – Simona Margetić (EHF), Jelena Bagarić (EHF) and Žika Bogdanović (Balkan-Handball.com)
11:15 – 12:30 "New generations – new approach" – Vladan Jordović (PIK Seged), Matko Zrilić (RK Maksimir Pastela), Nikola Maksimović (RK Novi Beograd) and Goran Đorgonovski (Rakomet za koe dete)
12:45 – 14:00 "Handball – yesterday, today, tomorrow" – Lino Červar, Kasim Kamenica and Veselin Vujović