Youth WCh 2013: Denmark is world champion!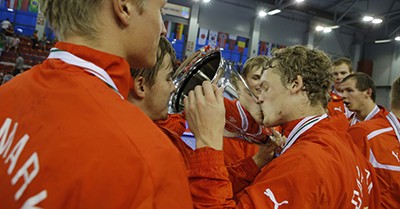 Denmark wins the Youth World Championship for the third time in the history after 2007 and 2011 which made the Danish handball the most succesful in the history of this competition. Danish generation 1994 beat Croatia 32:26 (25:25, 12:12) after extra-time and win the gold medal with all nine victories at the tournament in two Hungarian cities of Erd and Budaors.
The third place and bronze medal won Germany by win over Spain 29:23.
Final Ranking
| | | |
| --- | --- | --- |
| 1. | | Denmark |
| 2. | | Croatia |
| 3. | | Germany |
| 4. | | Spain |
| 5. | | Norway |
| 6. | | Sweden |
| 7. | | Serbia |
| 8. | | Slovenia |
| 9. | | Brazil |
| 10. | | Hungary |
| 11. | | Romania |
| 12. | | Belarus |
| 13. | | France |
| 14. | | Egypt |
| 15. | | Qatar |
| 16. | | Austria |
| 17. | | Japan |
| 18. | | Argentina |
| 19. | | Tunisia |
| 20. | | Venezuela |
| 21. | | South Korea |
| 22. | | Angola |
| 23. | | Gabon |
| 24. | | Chile |
All Star Team:
Best Goalkeeper: Sebastian L. Frandsen (DEN)
Best Left Wing: Lovro Mihic (CRO)
Best Pivot: Ingacio Plaza Jiminez (ESP)
Best Right Wing: Sebastian Karlsson (SWE)
Best Left Back: Marko Mamic (CRO)
Best Centre Back: Tim Suton (GER)
Best Right Back: Niklas Kirlokke (DEN)
Most valuable player: Simon Hald Jensen (DEN)