EHF CL: First point for Swiss Kadetten – Motor beat Skjern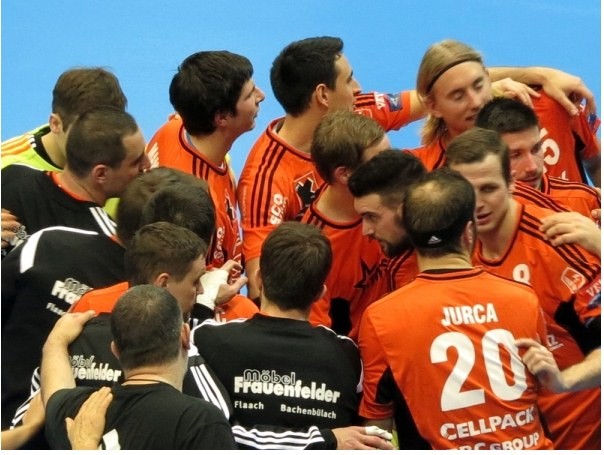 Kadetten Schaffhausen won the first point at the VELUX EHF Champions League season after thrilling ending in Romania, where domestic Minaur Baia Mare had the last attack for a victory, but Lars Walther guys missed last shot from the left wing position in situation 6 on 5. At the end, it was 31:31 (16:18) with eight goals of Ivancsik and Ostroushko for the home squad, and Liniger in Swiss roster.
How important is advantage of home court showed Ukrainian Motor Zaporozhye by beating easily Danish Skjern 31:26 (15:13). Lithuanian playmaker Malasinskas gave a lesson to the rivals with 8 goals, while the most efficient in the Danish team was Norwegian star, line-player Myrhol with five goals.
STANDINGS:
| | | | | | | | | | |
| --- | --- | --- | --- | --- | --- | --- | --- | --- | --- |
| 1. Skjern Handbold | 3 | 2 | 0 | 1 | 95 | : | 82 | (13) | 4 |
| 2. HC Motor Zaporozhye | 3 | 2 | 0 | 1 | 91 | : | 85 | (6) | 4 |
| 3. HC Metalurg | 3 | 2 | 0 | 1 | 74 | : | 73 | (1) | 4 |
| 4. HCM Baia Mare | 3 | 1 | 1 | 1 | 94 | : | 93 | (1) | 3 |
| 5. Elverum Handball Herrer | 3 | 1 | 0 | 2 | 73 | : | 89 | (-16) | 2 |
| 6. Kadetten Schaffhausen | 3 | 0 | 1 | 2 | 85 | : | 90 | (-5) | 1 |