Interesting start in Baltic Handball League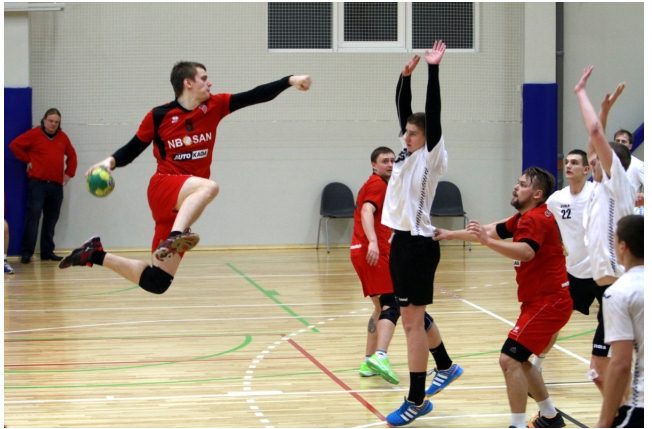 The 2015/16 season of Baltic Handball League is surely not going to be boring, so much excitement, surprises and even shocks already was seen during the opening weekend. Who would have believed that both last season's BHL and BCL champions will suffer defeat in their opening matches? Or that Belarussian clubs manage to take just one win out of six matches? Or that four matches end with one team's minimal advantage with goals coming in the final seconds?
Arguably the biggest shock of the weekend came in the opening match, where title-holder SKA Minsk met HC Kehra/Horizon Pulp&Paper. The match was played in Kehra, although it was considered as "home match" for the Belarussians. It was also the first game as a head coach in BHL for Kehra's new boss Indrek Lillsoo and what a great debut he had…
Kehra's first ever win over SKA
SKA started strongly, but Kehra played well and taking the lead after seven minutes, the Estonian side never let SKA ahead again. Half-time was 18-17 for Kehra and it was tight until 46th minute, then Lillsoo's boys made a strong 7-2 finish and eventually enjoyed a comfortable 35-28 win. All eight previous meetings of the two clubs in BHL had ended in SKA's favour! Uku-Tanel Laast was the best scorer with 10 goals, while Uladzislau Kulesh scored 7 for SKA.
"I knew that BHL can produce unexpected results, but this was surprising even for me," smiled happy Lillsoo after the game. "Our team is in good shape, we played well and without pressure, as the opponent is the title-defender and maybe all this surprised SKA. The league seems to consist quite equal teams and none can expect easy wins here."
Despite the great performance on Saturday, Kehra did not manage to continue on winning streak and travelling to Lithuania the day later, lost 24-33 to Dragunas Klaipeda (Igor Kopishinskiy 9 – Kaupo Liiva  5). "Perhaps there was a little bit of content after the success over SKA," said Lillsoo. "Dragunas had huge will to win and they were very aggressive. Three defeats against Estonian clubs in short period of time had built up a hunger for revenge and the whole atmosphere was heated."
Dragunas surprised by Viljandi
Opposite to HC Kehra, the other Estonian club Viljandi HC started in Klaipeda on Saturday and caused a surprise of their own. Last year both clubs played in BCL and Dragunas won both matches, this time Viljandi took a very important away win by 27-25, having lost the first half 13-15. Estonian internationals Kristo Voika and Kristo Järve, as well as Dragunas' best, Karolis Stropus all recorded 6 goals.
"We were expecting to gain one win from this weekend, but did not expect to lose against Viljandi," admits Dragunas' head coach Arturas Juškenas. "I'm not happy with the result, but Viljandi was the better and more stable team here. And we had huge problems with Kristo Järve. He's soon 38 and still going strong – we know everything he does and still could not stop him."
The day later Viljandi was back home, met with SKA, but was no match for the defending champions. The game was not one-sided, but Viljandi never got ahead and curiously lost both halfs with the same result 11-14, making the final score 28-22 for SKA. Mikita Vailupau was SKA's best with 8 goals. Voika, Ott Varik and Robert Lõpp all scored 5 for the hosts.
Viljandi HC's head coach Marko Koks had mixed, but mostly positive feelings after the weekend: "I'm never happy with a defeat, but we did prove to ourselves, we can play with the strongest teams in the league. I think we had a little bit too much respect for SKA due to their name and titles. We had quite a lot of chances, which we just failed to use and of course – to miss four penalty throws is never a good sign either."
In the one remaining Group A match BHL's newcomer HK Ogre/Miandum took a little surprisingly a win over Celtnieks Riga 34-30, despite having lost the the first half 16-18 and trailing 29-30 with just eight minutes to go. Incredible 5-0 finish helped Ogre/Miandum to a win in their debut. Artis Kurmens recorded the best score of the whole opening BHL weekend with 14 goals. Arvis Čikuts scored 8 for Celtnieks.
Cocks decided both games in last seconds
It was in Group B, where incredibly tight matches were played – four out of six games ended with just one-goal difference for the winners! Most expected clash was arguably the two-match stand-off in Põlva, where last season's second and third teams Serviti and Cocks played. On both days Cocks came out on top, but with minimal advantage and with two different scenarios.
On Saturday, Cocks was basically leading the whole time, occasionally with 4-5 goals, until suddenly in the 53rd minute, Serviti took the lead for the first – and only – time by 25-24. The end of the match belonged to Finns and it was Nico Rönnberg who recorded the winning goal in the last seconds to make it 28-27.
Ukrainian Andriy Ternovyi scored 9 goals for Serviti and Teemu Tamminen hit 7 for the winners. Cocks' head coach Kaj Kekki was obviously satisfied: "In my four years in charge of the club, I believe we only had one draw in Põlva's home and lost all the other matches. And this time we grabbed the win in final seconds!"
It was a different story on Sunday, this time Serviti seemed to slip away from last season's runner-up. It was a tight first half before Estonian champion scored four unanswered goals at the end and took a 15-13 lead. Cocks fought back, but then a seven-minute spell midway through the second half, which ended 8-1 for Serviti – and saw Ardo Puna score 4 goals – seemed to have ended the game.
But Finnish champions did not think that way – with 13 minutes to go, they were 19-27 behind, but came out as 29-28 winners! In that incredible spell Roni Syrjälä scored all of his 4 goals of the match and Gheorghe Safronii added 3 – including the winner with 14 seconds to go. It was a very good overall team performance, as 10 of Cocks' players scored in the game. Puna was Serviti's best with 10 goals.
"I decided to change three players and play a defensive tactic we have never done in BHL before," explained Kekki his winning formula. "We man-marked two of Serviti's players and the hosts seemed to froze for a moment. Our throws started to go in and of course Roni [Syrjälä], who did not play the day before, was a true ace we found for these minutes."
Tenax and Granitas start with two victories
Unlike in Group A, three teams in Group B ended the weekend with two wins and the rest have no points in the table. Tenax Dobele took another one-goal win of the weekend on Saturday, beating HC Meshkov Brest by 33-32 (Toms Lielais 7 – Artsiom Kulak 12). Day later, the Latvian champions had an easier day, smashing the other Belarus team of the group, HC Vityaz Minsk by 37-19 (Oskars Arajs 7 – Andrei Satsiuk 5).
Tenax manager Ivars Zarinš was very happy with the start. "We have to win home matches if we want to achieve something and as minimum, we want to qualify to the quarter-finals," Zarinš said. "Saturday was a very tight match, Brest took a 4-goal lead by half-time, but we had a good fight-back. In the end I guess we just had a little bit more luck, as Toms Lielais scored our winning goal with just five seconds remaining."
Granitas-Gaja-Karys Kaunas started their season with a 36-24 win over Vityaz (Mindaugas Urbonas 11 – Siarhei Radziukou 11) and then caused another little surprise on Sunday, as they beat HC Meshkov by 33-32 (Urbonas and Vaidas Drevinskas 6 – Kulak 8). Artsiom Kulak also leads the scoring competition of the BHL after the opening weekend with 20 goals.
Tenax, Cocks and Granitas lead the Group B with 4 points each, while in Group A five teams have two points – SKA, Viljandi, Kehra, Ogre/Miandum and Dragunas. Celtnieks is the only team without points, but the two Latvian teams have only played one game. The BHL season continues on 14th and 15th November with another ten matches.
Source: Baltic Handball League