NBSC World Handball Coach 2019: Parrondo No.1 for the fans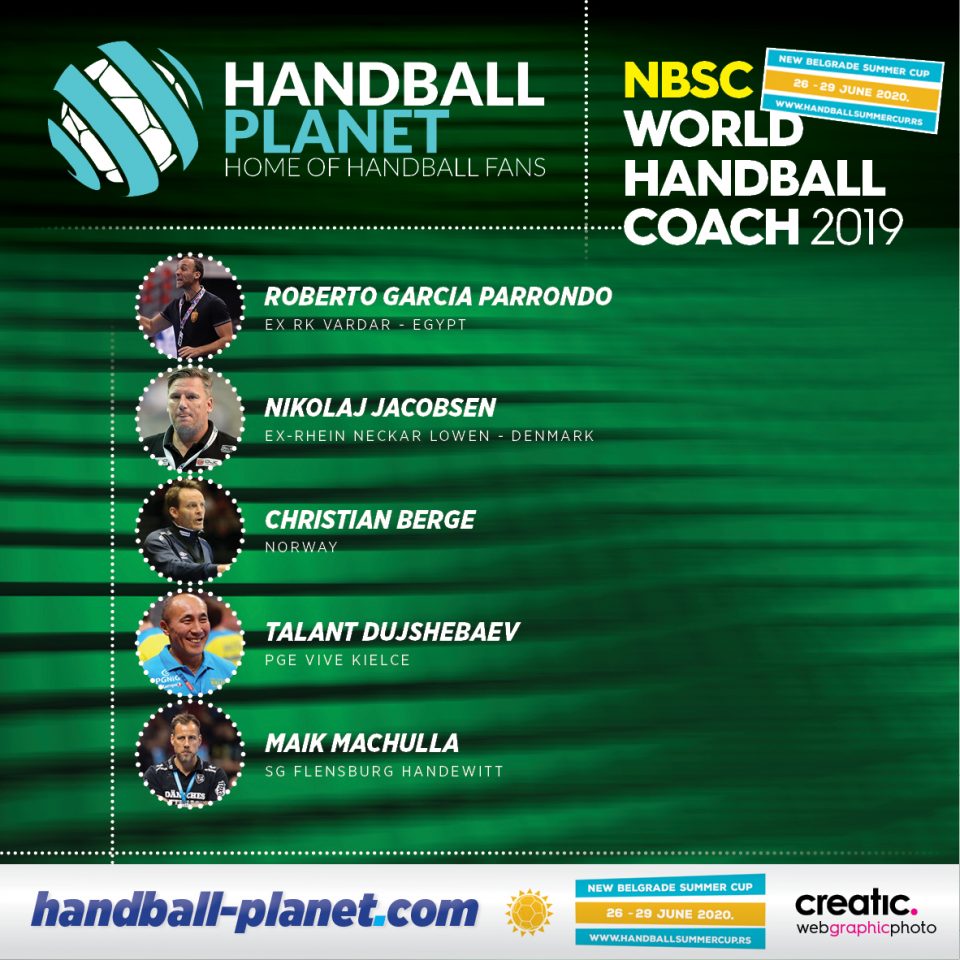 Here is the explanation of the Voting process for the World Handball Coach 2018 powered by New Belgrade Summer Cup.
Handball-Planet.com made the Jury consisted of the handball specialists from 22 countries (four continents) while the last member were the visitors of our website (770 votes). Journalists voted for their favorites by giving them 3, 2 and 1 vote/point, while the fans' opinion was calculated different with 15, 10, 7,4 and 1 vote/point per position.
NBSC World Handball Coach 2019
NBSC World's Best Coach 2019 in Men's handball

Roberto Garcia Parrondo (ex RK Vardar – Egypt) (71%, 550 Votes)

Talant Dujshebaev (PGE Vive Kielce) (13%, 99 Votes)

Nikolaj Jacobsen (ex-Rhein Neckar Lowen – Denmark) (7%, 51 Votes)

Christian Berge (Norway) (6%, 45 Votes)

Maik Machulla (SG Flensburg Handewitt) (3%, 25 Votes)

Total Voters: 770
JURY MEMBERS:
Bjorn Pazen (Handball Woche, Germany)
Stig Nygard (TV 2, Norway)
Mladen Miletic (Vecernji List, Croatia)
Jasmin Tajić (Oslobodjenje, Bosnia and Herzegovina)
Jorge Dargel (MARCA, Spain)
Rici Gjamovski (G-sport.mk, North Macedonia)
Magda Pluszewska (EHF correspondent, Poland)
Yann Hildwein (L'Equipe, France)
Lars Bruun-Mortensen (TV 2, Denmark)
Sergey Novikov (handballfast.com, Russia-Belarus)
Ivar Benediktsson (mbl.is, Iceland)
Konstantinos Chatzidimitriou (e-HANDBALL.gr, Greece)
Igor Grachov (Komanda newspaper, Ukraine)
Adam Varga (Hetmeteres.com, Hungary)
Luca Zadra (Pallamanoitalia.it, Italy)
Sascha Staat (Kreis Ab – Der Podcast, Germany)
Sergey Prigolovkin (handballfast.com, Russia)
Sreten Raskovic (Arena Sport TV, Serbia)
Lojze Grčman (Atletia.si, Slovenia)
Johannes Hahn (ORF, Austria)
Života Bogdanović (Balkan-handball.com, Serbia)