ROAD TO SEHA F4: Metalurg, Vardar and Meshkov fight until the end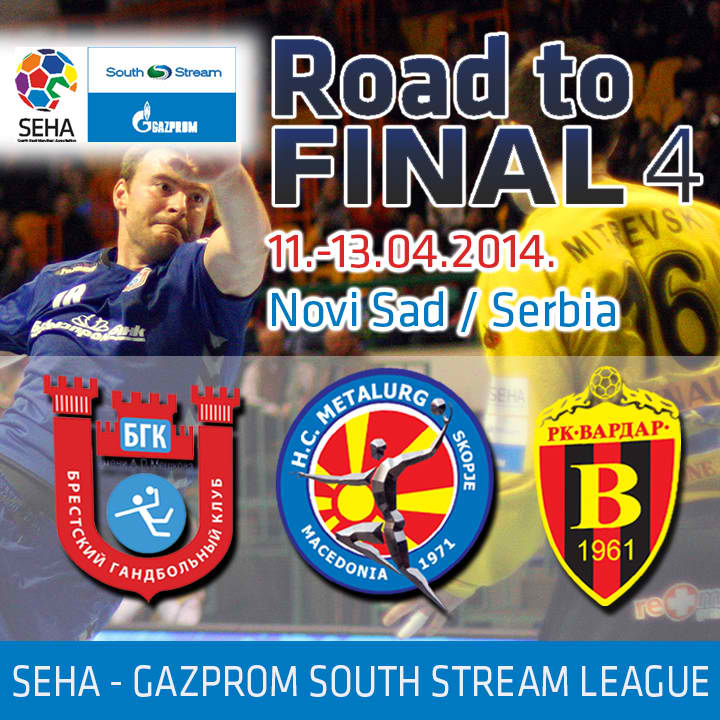 Two teams have already booked their place in Novi Sad but there are three more teams fighting for remaining two places on SEHA Gazprom South Stream League's Final Four – Macedonians Vardar and Metalurg along with Belarus Brest Meshkov.
Here are the current standings:
3. Meshkov Brest   15   10   0   5   408 : 379   30
4. Vardar                  15     9   1   5   429 : 392   28
5. Metalurg              16     8   4   4   417 : 388   28
The first team to begin the battle for vital points is Vardar. They will surely do their best to take three points from Lovcen in Cetinje on Thursday.
One of the most interesting matches in the latest part of regular season is clash between Metalurg and Meshkov Brest in Skopje next Sunday. Belarus team might secure the place in Novi Sad with a win. In case they do not manage to do it in 'Boris Trajkovski' hall, they will have to beat NEXE in Osijek which will, due to the fact that NEXE is 'on fire' with wins against Macedonian giants, be very hard.
Brest Meshkov will also face Partizan in the last match on March 18.
Metalurg, coached by Lino Cervar, will not be able take the an easier way to Novi Sad. They have to wait for the outcome of the match between Vardar and Meshkov and by that have to take three points from Presov to ensure the place on Final Four.
Vardar also has to avoid mistakes against Borac in Banja Luka (March 11) and then four days later they have to beat CO Zagreb in Skopje (March 15). Only one loss, in case of Metalurg's two wins would put Metalurg in front due to a better 'head-to-head' score Cervar's team has.
Two interesting weeks ahead of us will answer the question who will we see in Novi Sad from March 11 to March 13!