SG Flensburg Handewitt conquer SAP Arena!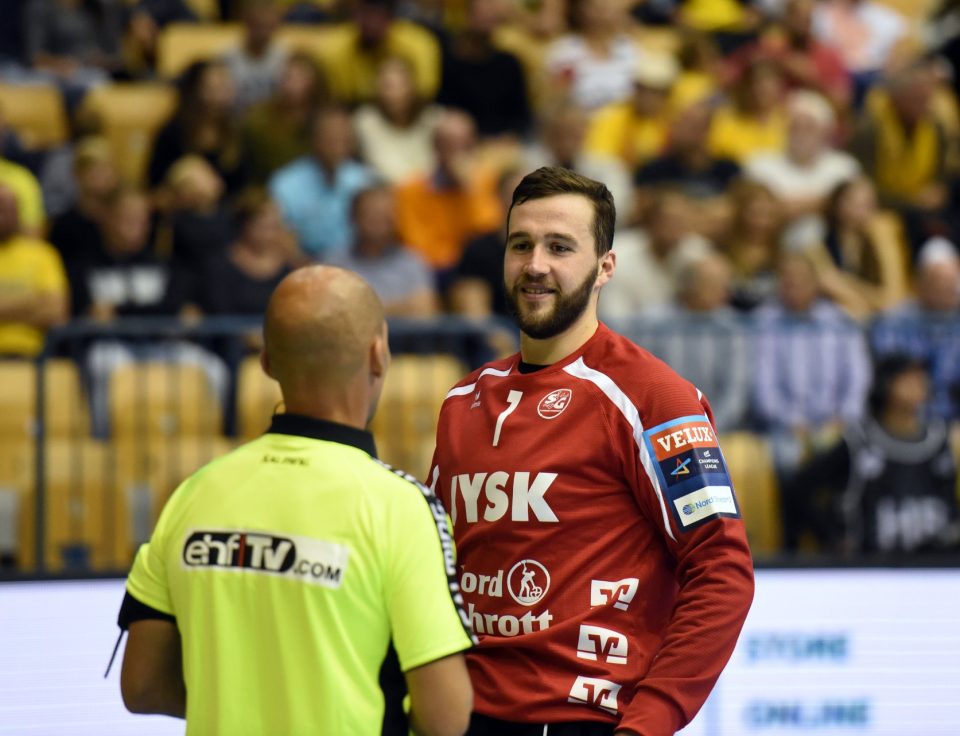 SG Flensburg Handewitt are step closer to remain at the TOP of the German handball for the second year in a row after beating Rhein Neckar Lowen 26:23 (12:8) at sold out SAP Arena in Mannheim. The man in power was Flensburg's goalkeeper Benjamin Buric who saved some important shots to put his team ahead in the finish of the derby clash.
SG Flensburg Handewitt are still four points ahead of THW Kiel seven matches before the end of the season.
Rhein-Neckar Löwen – SG Flensburg-Handewitt 23:26 (8:12)
Rhein-Neckar Löwen: Appelgren (2 saves), Palicka (9 saves) – Schmid (5/3), Mensah (3), Groetzki, Guardiola (1), Sigurdsson (4), Kohlbacher (5), Lipovina (3), Fäth (2), Abutovic
SG Flensburg-Handewitt: Buric (12 saves) – Karlsson, Golla, Hald (3), Glandorf (1), Svan (3), Wanne (3/1), Zachariassen, Johannessen (5), Gottfridsson (4), Lauge (4), Rød (3)
STANDING:
| | | | | | | | | |
| --- | --- | --- | --- | --- | --- | --- | --- | --- |
| 1. | Flensburg-H. | 27 | 26 | 0 | 1 | 772:618 | 52 | |
| 2. | Kiel | 27 | 24 | 0 | 3 | 806:649 | 48 | |
| 3. | SC Magdeburg | 27 | 21 | 0 | 6 | 814:695 | 42 | |
| 4. | Rhein-Neckar | 27 | 20 | 2 | 5 | 754:666 | 42 | |
| 5. | MT Melsungen | 27 | 16 | 0 | 11 | 738:725 | 32 | |
| 6. | Bergischer | 27 | 15 | 1 | 11 | 704:687 | 31 | |
| 7. | Fuchse Berlin | 27 | 15 | 0 | 12 | 726:704 | 30 | |
| 8. | Goppingen | 27 | 14 | 2 | 11 | 724:713 | 30 | |
| 9. | Lemgo | 27 | 11 | 3 | 13 | 692:690 | 25 | |
| 10. | Erlangen | 27 | 11 | 2 | 14 | 678:699 | 24 | |
| 11. | Minden | 27 | 11 | 1 | 15 | 757:761 | 23 | |
| 12. | Stuttgart | 27 | 10 | 2 | 15 | 728:797 | 22 | |
| 13. | Hannover-Burgdorf | 27 | 10 | 1 | 16 | 744:763 | 21 | |
| 14. | HSG Wetzlar | 27 | 10 | 0 | 17 | 678:707 | 20 | |
| 15. | Leipzig | 27 | 8 | 2 | 17 | 679:692 | 18 | |
| 16. | Gummersbach | 27 | 5 | 1 | 21 | 641:777 | 11 | |
| 17. | Bietigheim-Metterzimmern | 27 | 4 | 0 | 23 | 645:802 | 8 | |
| 18. | Ludwigshafen | 27 | 2 | 3 | 22 | 632:767 | 7 | |