News
TOP 100 handball transfers before season 2022/2023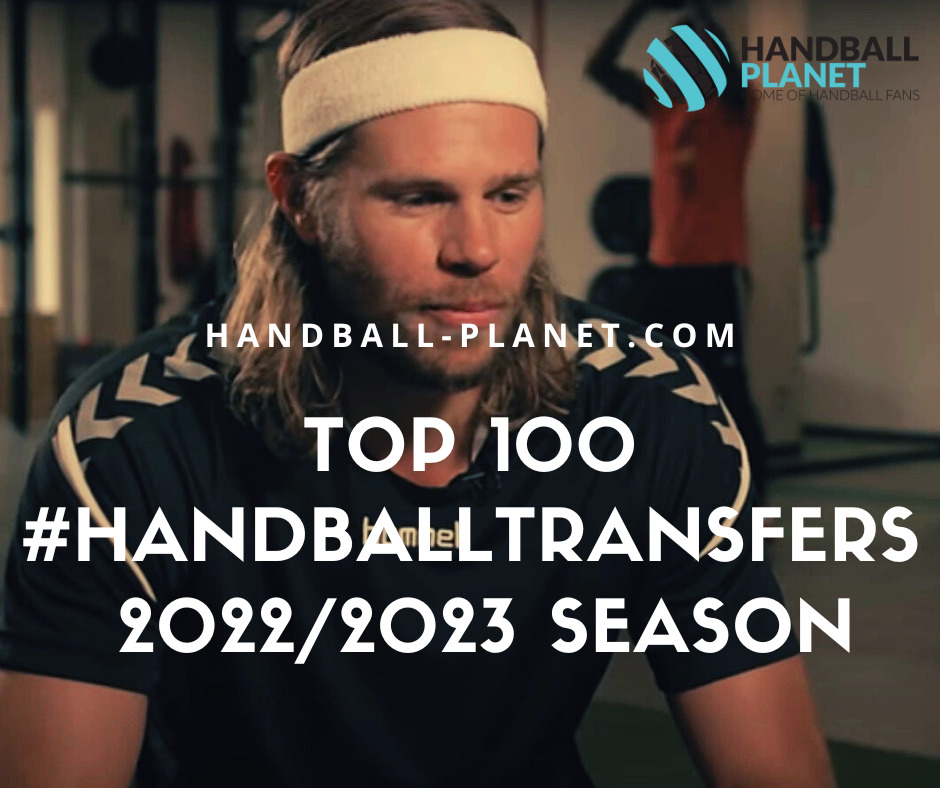 As before the start of every season, Handball-Planet.com presents the list of TOP 100 transfers of the summer 2022 in men's handball.
The biggest move in European handball is comeback home to Aalborg of the Danish star Mikkel Hansen after 10 years abroad in Paris.
The second place is also reserved for Dane, Mathias Gidsel, who went from Denmark to gain Bundesliga experience in Fuchse Berlin.
Here is TOP 100 transfers before  2022/2023 season according to Handball-Planet.com TEAM:
Mikkel Hansen (PSG Handball – Aalborg Handbold)
Mathias Gidsel (GOG Handbold/DEN – Fuchse Berlin)
Nedim Remili (PSG – Kielce)
Andreas Palicka (Redbergslids – PSG Handball)
Emil Nielsen (HBC Nantes – Barca)
Uladzislau Kulesh (Lomza Industria Kielce/POL – TSV Hannover Burgdorf)
Jannick Green (SC Magdeburg – PSG Handball)
Bjarki Mar Elisson (TBV Lemgo – Telekom Veszprem)
Dragan Pechmalbec (HBC Nantes – Veszprem)
David Balaguer (HBC Nantes – PSG Handball)
Hampus Wanne (SG Flensburg – Barca)
Stas Skube (Meshkov Brest – Montpellier)
Jonathan Carlsbogard (TBV Lemgo – Barca)
Rogério Moraes Ferreira (Benfica Lisbon – MT Melsungen)
Nikola Portner (Chambery Savoie HB – SC Magdeburg)
Yehia El-Deraa (Zamalek – Veszprem)
Ali Zein (Barca – Dinamo Bucharest)
Mikita Vailupau (Meshkov Brest – Veszprem)
Agustin Casado (Ciudad Logrono – MT Melsungen)
Eric Johansson (Elverum Handball – THW Kiel)
Ángel Fernández (Barca – Limoges)
Lazar Kukic (Benfica – Dinamo Bucharest)
Torbjørn Bergerud (GOG – Kolstad IL)
Johan Hansen (TSV Hannover-Burgdorf – SG Flensburg Handewitt)
Halil Jaganjac (RK Nexe – Lomza Industria Kielce/loan Rhein Neckar Lowen)
Max Darj (Bergischer HC – Fuchse Berlin)
Timur Dibirov (RK Vardar – RK PPD Zagreb)
Benoît Kounkoud (PSG – Lomza Industria Kielce)
Viktor Hallgrimsson (GOG – HBC Nantes)
Karl Wallinius (Montpellier HB – THW Kiel)
Oscar Bergendahl (GOG Handball – Stuttgart)
Youssef Ben Ali (Barca – Aix)
Branko Vujovic (Lomza Vive Kielce – TSV Hannover Burgdorf)
Ivan Pesic (TBV Stuttgart – HBC Nantes)
Ivan Martinovic (TSV Hannover-Burgdorf – MT Melsungen)
Magnus Gullerud (SC Magdeburg – Kolstad IL)
Jorge Maqueda (Telekom Veszprem – HBC Nantes)
Marin Sego (Montpellier Handball – FA Goppingen)
Jérémy Toto (RK Vardar Skopje – HBC Nantes)
Viktor Kireev (CSKA Moscow – Fuchse Berlin)
Vincent Gérard (PSG – Saint Raphael)
Dominik Mathé (Elverum – PSG)
Tobias Thulin (TBV Stuttgart – GOG)
Adam Morawski (Wisla Plock – MT Melsungen)
Stanislav Kasparek (Meshkov Brest – Dinamo Bucharest)
Elliot Stenmalm (Redbergslids – Kielce)
Sigvaldi Gudjonsson (Kielce – Kolstad)
David Mandic (RK Zagreb – MT Melsungen)
Zoltan Szita (Wisla Plock – Pick Szeged)
Vuko Borozan (Al Arabi – RK PPD Zagreb)
Mads Hoxer Hangaard (Mors Thy – Aalborg)
Gilberto Duarte (Montpellier HB – FA Goppingen)
Nejc Cehte (TSV Hannover Burgdorf/RK Vardar – GOG)
Henrik Jakobsen (USAM Nimes – GOG)
Kristian Pilipovic (Kadetten Schaffhausen – Wisla Plock)
Nikolaj Læsø (Aalborg – Porto)
Maté Lekai (Veszprem – FTC)
Karl Konan (Aix – Montpellier)
Ilija Abutovic (Rhein Neckar Lowen – Chartres)
Rémi Desbonnet (USAM Nimes – Montpellier)
Ivan Sliskovic (FC Porto – Stuttgart)
Filip Ivic (RK PPD Zagreb – Chambery Savoie)
Yann Genty (PSG – Limoges)
Iñaki Peciña (Aix – Chambery Savoie)
Jesper Konradsson (Skjern – USAM Nimes)
Jacob Lassen (Bjerringbo-Silkeborg – HSV Handball)
Dejan Manaskov (Veszprem – RK Vardar Skopje)
Janus Smarason (FA Goppingen – Kolstad IL)
Jaka Malus (HC Meshkov Brest – FA Goppingen)
Andy Schmid (Rhein Neckar Lowen – HC Kriens Luzern)
Seif Elderaa (Zamalek – Limoges)
Viran Moros (Fuchse Berlin – Pfadi Winterthur)
Marino Maric (MT Melsungen – DhFK Leipzig)
Tomas Mrkva (Bergischer HC – THW Kiel)
Viachaslau Bokhan (Motor – Dinamo Bucharest)
Tomislav Kusan (Al Arabi – Limoges)
Jonas Schelker (Kadetten Schaffhausen – HSG Wetzlar)
Radojica Cepic (RK Celje PL – HSG Wetzlar)
Urh Kastelic (Frisch Auf Göppingen – TBV Lemgo)
Thomas Solstad (Elverum – Bjerringbro Silkeborg)
Emil Buhl Laerke (GOG Gudme – TBV Lemgo)
Dario Quenstedt (THW Kiel – TSV Hannover Burgdorf)
Nik Henigman (Pick Szeged – Saint Raphael)
Petter Øverby (HC Erlangen – THW Kiel)
Aidenas Malasinskas (Ademar Leon – MT Melsungen)
Marius Steinhauser (SG Flensburg-Handewitt – TSV Hannover Burgdorf)
Urban Lesjak ( TSV Hannover Burgdorf – RK Eurofarm Pelister)
Silvio Heinevetter (MT Melsungen – Stuttgart)
Dani Sarmiento (retirement – Wisla Plock)
Marko Racic (Aix – RK Nexe)
Reinier Taboada (RK Eurofarm Pelister – Fredericia)
Simen Pettersen (Elverum – Skjern)
Mohamed Soussi (Tremblay – RK Eurofarm Pelister)
Stefan Dodic (RK Vardar – Kielce/RK PPD Zagreb)
Ignacio Plaza (AEK – Porto)
Samuel Zehnder (Kadetten Schaffhausen – TBV Lemgo)
Jack Thurin (Skovde – Porto)
Mickaël Robin (HBC Nantes – Saint Raphael)
Leonel Maciel (Barca – Sporting Lisbon)
Lucas Meister (GWD Minden – SC Magdeburg)