EHF
Vladimir Cupara before EHF CL Final4: Alex Dujshebaev is the biggest strength of Kielce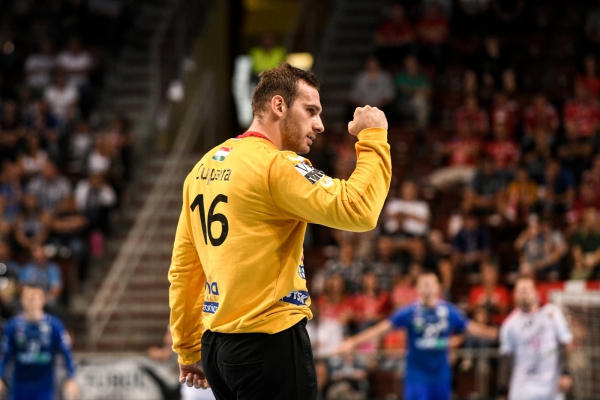 Telekom Veszprem goalkeeper Vladimir Cupara (28) gave an interesting interview for SEHA Gazprom League website between Hungarian Championship and EHF Champions League Final4.
How do you feel when you think about that loss against Szeged in the last second 29:30?
It is obviously extremely tough to lose the Championship in the last second in front of more than 5.500 fans. We definitely didn't expect something like that as we were really growing as a team lately but that's sport – one possession decided everything. Focus is now shifting towards EHF Final4 in Cologne. There you can't allow yourself to have a bad day.
Could you describe the evening and the day after the loss against Szeged?
In the changing room we didn't talk to much but were despite of everything very supportive – that's that special something this team has. We were already then well-aware of our mistakes. I went out and asked my girlfriend, future wife to drive my car back home so that I can take a walk. It was a 45-minute walk but I needed some time alone. I never did it before honestly. During the walk I met around 300-400 fans who were supporting me, clapping and screaming. That's Veszprem. That helped me re-focus, find strength for another important week. Morning after I went to Budapest. It was an Orthodox holiday so I went to church. That means a lot to me, helps me find balance. During the afternoon I had lunch with my friends and that also helped me recharge. Despite of it all, even now – four days later, my blood pressure still rises when I think of that loss. It's normal.
What was Momir Ilic' reaction to the loss? What did the coaching staff do to prepare the team for another big and important week?
Momir doesn't speak to much after the matches. Usually he just says 'we'll talk about it on Monday' but this time he was emotional stressing out how proud he is of us. We could really see and feel his support. That's what's important for every player. Video analysis will point out our mistakes but other things matter as well. First training session of the week was all about football and basketball. No handball, just relaxation, good energy, trying to re-establish the vibe we've had throughout the entire season, all the way until this last Friday.
Telekom Veszprem and Cologne. Seems like a never-ending story.
It's been like that for the last 25 years but I hope things will change this time around. Four incredible teams will be there all of which can go all the way. We'll play against Kielce – strong team with a fantastic coach and an amazing roster. Talant Dujshebaev really has a hard time choosing 16 players for the game. That's my former team and I know some guys over there. Their biggest strength is Alex Dujshebaev – the best attacking player in the world. He simply knows it all – every dribble, every shot, every move. Wollf is also incredible between posts but Kornecki is also very good. Dylan Nahi is a special winger. It will be really hard to play against them.
(Saturday)
Telekom Veszprem – Lomza Vive Kielce 15:15 
FC Barcelona – THW Kiel 18:00