BHL is BACK: Crucial games ahead across four countries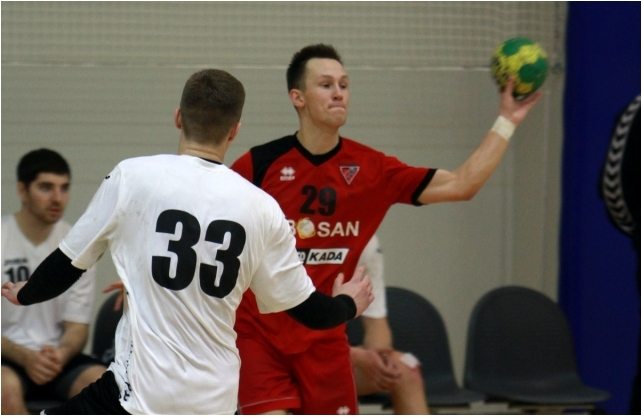 Only two weeks has past after last Baltic Handball League weekend and we have another interesting two days ahead of us – 8 matches will be played across four countries with all 11 teams returning to action. Several clubs may secure quarter-final places, but the final positions in both preliminary groups look certain to be decided during the ultimate weekend in early March.
Newcomer ZTR Zaporozhye could secure the Group A win, as they have 13 points with followers SKA Minsk and HC Kehra/Horizon Pulp&Paper 5 points behind. Viljandi HC has 6 points, but Dragunas Klaipeda and Celtnieks Riga will surely put up a good fight in order to reach the top four, as they have 3 and 2 points respectively with one game in hand.
In Group B, Serviti Põlva took the leadership two weeks ago, reaching 9 points, but title-defender Cocks Riihimäki has played two games less and has 8 points. The top two are followed by Tenax Dobele (6), Granitas-Karys Kaunas (3) and VHC Šviesa Vilnius (2).
Cocks starts an important part of the season
Saturday brings us possibly one of the most important games of the weekend, as Group B leaders Serviti travel to Riihimäki. Finnish champion was game-free two weeks ago and will return to BHL action during a crucial part of the season. Cocks is preparing for EHF Cup group stage, which starts next week and where their opponents are MT Melsungen, SL Benfica and Helvetia Anaitasuna.
"We have a very tough period ahead of us, almost every week two or three matches and a lot of travelling around Europe," admits Gintaras Savukynas, the head coach of Cocks. "In addition all games are important, so we really need to be prepared. We had a good training spell in January in order to be ready for the second half of the season."
On Wednesday, Cocks defeated Sjundeå IF 35-24 (Teemu Tamminen 10 goals) in domestic league, where they have 16 wins out of 16 so far. In December, the Finns beat Serviti 31-26 away and in general have a better record against the Estonian champions. In last 15 BHL matches between the two teams Cocks has won 9, Serviti 5 and one game ended in a draw.
"The visitors are champions of Estonia and Latvia, so there will be no underestimation – both are strong and the fact that we beat them away, does not mean much now," assures Savukynas. "Unfortunately we are without injured Andrei Kaliarovich and Yury Lukyanchuk for this weekend. The latter one should be fit for EHF Cup start next week."
Cocks' opponents did not have the best preparation, as Serviti lost a domestic league clash to Kehra 27-29 (Anatolii Cheslov 9) and Tenax Dobele suffered a shock defeat in Latvian Cup semi-final against SK Latgols by 29-30 (Emils Kurzemnieks 6).
Celtnieks and Dragunas hosting teams "from another planet"
Latvian and Lithuanian runners-up Celtnieks and Dragunas have two tough games ahead of them, as ZTR Zaporozhye and SKA Minsk will visit Riga and Klaipeda respectively this weekend. Both home teams desperately need points to jump on the "quarter-final train".
Dragunas is the only team this season who managed to take a point from ZTR, as they drew 25-25 in November in the opening encounter. While Ukrainian league is on a break, Dragunas had a good preparation on Wednesday, defeating fellow BHL competitor VHC Šviesa Vilnius 21-16 (Šarunas Ugianskis and Lukas Simenas 6).
Celtnieks also put up a good fight against ZTR in November, losing 24-31, but the Latvian side has never beaten SKA Minsk before in BHL. Once, back in 2013/14 they lost by a one-goal, in other six matches it has been 8 or more goals the difference between Celtnieks and three-time BHL winner.
"These two teams arriving are like from another planet compared to us," said Celtnieks' head coach Normunds Blome. "This does not mean we are not going to fight and hoping to put together our best possible performance. But we need to be realistic, we need some luck to get points, plus our goalkeepers must have a great day and in attack everything should click together."
Last weekend, Celtnieks suffered a painful defeat in the Latvian Cup semi-final, losing to HK Ogre/Miandum 27-30 (Arturs Lazdinš 6). "It was a strange cup competition with us and Tenax Dobele losing in the semi-finals and we definitely need to play much better in the coming weekend," added Blome.
Ukrainian club out for revenge without playmakers
ZTR has won six out of seven games in the group stage so far and only need one more win from remaining three matches to be the winner of Group A and arguably getting an easier opponent for the quarter-finals. "We are always going after victories, but handball is a tricky game," admits Vitaliy Nat, ZTR's head coach.
"Dragunas managed to held us to a 25-25 draw last time and it was a fair result from a tough and even game. I expect much of the same this time, but we want revenge," commented Nat. "Long break in Ukrainian league due to the fact Motor Zaporozhye had players at the World Championships, was not good for us. The break would have been even longer if not for the Baltic League, so we are ever-so grateful playing in BHL."
ZTR will not travel with their strongest squad to the Baltics. "Unfortunately we lost our main playmaker Denys Isanchuk this week, as he broke two of his fingers in training," explained Nat. "In addition, the second playmaker Oleksandr Tilte is still struggling with his knee problem, so we need to give him time to recover."
Estonian and Lithuanian derbies on Saturday
Elsewhere, we have a derby day in Viljandi, as the home club will host HC Kehra/Horizon Pulp&Paper. In BHL, the teams have met only three times so far and it's always been the home team to come up victorious. In November, Kehra took a 26-23 win at home. It's been the same story this season in Estonian championships with both teams having won at home.
Curiously, the teams will meet again in Viljandi in just four days time for a domestic league clash. Kehra is arriving on a high note, having jumped to first place in the Estonian league after beating Serviti at home on Wednesday 29-27 (Uku-Tanel Laast 7).
Another derby-match is taking place in Kaunas, as Granitas-Karys welcomes VHC Šviesa Vilnius. This encounter in December brought a slight surprise as Šviesa won 30-25. In Lithuanian championships this season Granitas-Karys has beaten their Saturday opponents twice, second time just last week by 31-25.
Full match schedule: http://www.baltichandball.net/calendar