Fans Corner
Vote for World Handball Player 2021 powered by NEXE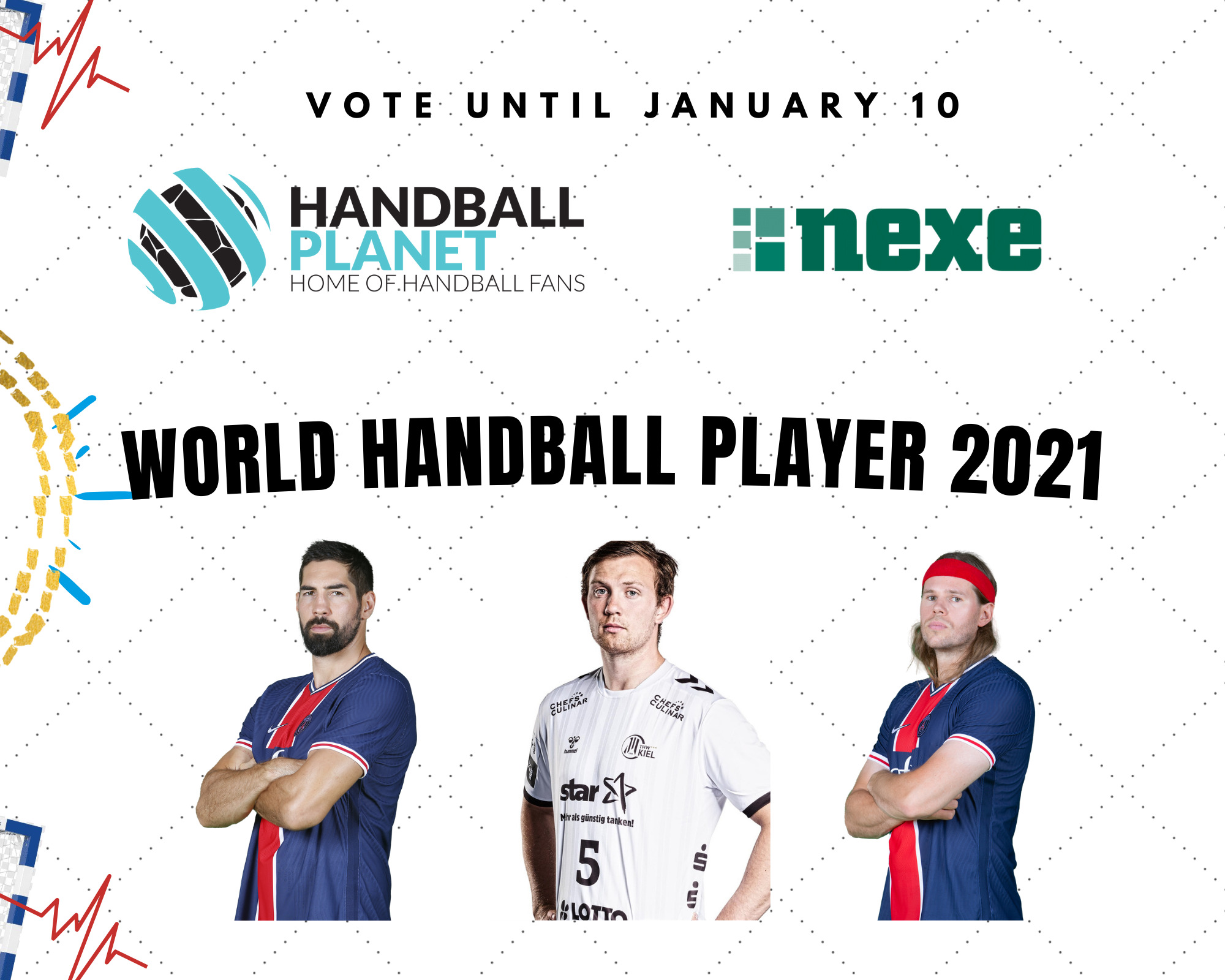 The 11th year in a row, Handballl-Planet.com organizes the Contest for the WORLD HANDBALL PLAYER 2021 powered by Nexe Grupa! The Voting process of the traditional December's competition is based on opinion of 11 handball journalists from all over the world. Handball-Planet.com Jury of handball Experts from various handball markets and cultures made the list of 32 players (four per team's position) who will be in the race for the title of the WORLD HANDBALL PLAYER 2020, but also "BEST 8" OF WORLD HANDBALL 2021. 
The last member of Jury are Handball-Planet.com visitors, who can support their favorites by joining the Polls until January 10. It is important to be remembered that votes of handball fans across the globe will be added to existing number of points given by the journalist's jury.
Journalists and fans will together announce the best at the end of the voting process.
Here are the nominations for the HP WORLD HANDBALL PLAYER 2021 per position (CLICK AND VOTE):
WORLD BEST LEFT WING 2021
WORLD BEST LEFT BACK 2021
WORLD BEST PLAYMAKER 2021
WORLD BEST RIGHT BACK 2021
WORLD BEST RIGHT WING 2021
WORLD BEST LINE-PLAYER 2021
WORLD BEST GOALKEEPER 2021
WORLD BEST DEFENSIVE PLAYER 2021
HP WORLD LEFT WING 2021:
Hampus Wanne (SG Flensburg Handewitt – Sweden)
Hugo Descat (Montpellier Handball – France)
Valero Rivera (HBC Nantes – Spain)
Dylan Nahi (Lomza Vive Kielce – Poland)
HP WORLD LEFT BACK 2021:
Sander Sagosen (THW Kiel – Norway)
Timothey N'Guessan (Barca – France)
Jonathan Carlsbogard (TBV Lemgo – Sweden)
Mikkel Hansen (PSG Handball – Denmark)
HP WORLD PLAYMAKER 2021:
Jim Gottfridsson (SG Flensburg Handewitt – Sweden)
Felix Claar (Aalborg Handbold – Sweden)
Luka Cindric (Barca – Croatia)
Raul Entrerrios (Barca ex – Spain)
HP WORLD RIGHT BACK 2021:
Alex Dujshebaev (Lomza Vive Kielce – Spain)
Mathias Gidsel (GOG Handbold – Denmark)
Dika Mem (Barca – France)
Omar Yahia (Telekom Veszprem – Egypt)
HP WORLD RIGHT WING 2021:
Blaz Janc (Barca – Slovenia)
Niklas Ekberg (THW Kiel – Sweden)
Mikita Vailupau (Meshkov Brest – Belarus)
Aleix Gomez Abello (Barca – Spain)
HP WORLD GOALKEEPER 2021:
Niklas Landin (THW Kiel – Denmark)
Benjamin Buric (SG Flensburg Handewitt – Bosnia and Herzegovina)
Gonzalo Perez de Vargas (Barca – Spain)
Vincent Gerard (PSG Handball – France)
HP WORLD LINE-PLAYER 2021:
Bence Banhidi (MOL Pick Szeged – Hungary)
Magnus Saugstrup (SC Magdeburg – Denmark)
Ludovic Fabregas (Barca – France)
Magnus Gullerud (SC Magdeburg – Norway)
HP WORLD DEFENSIVE PLAYER 2021:
Henrik Mollgaard (Aalborg Handbold – Denmark)
Luka Karabatic (PSG Handball – France)
Thiagus Petrus (Barca – Brazil)
Hendrik Pekeler (THW Kiel – Germany)
VOTE UNTIL JANUARY 10
JURY MEMBERS:
Bjorn Pazen (Handball Woche, Germany)
Rici Gjamovski (g-sport.mk, North Macedonia)
Stig Nygard (TV 2, Norway)
Yann Hildwein (L Equipe, France)
Jasmin Tajić (Oslobodjenje, Bosnia and Herzegovina)
Jorge Dargel (MARCA, Spain)
Rasmus Boysen (handball-world.com ENG, Denmark)
Života Bogdanović (Balkan-handball.com, Serbia)
Lars Bruun-Mortensen (TV2.dk, Denmark)
Sergey Prigolovkin (handballfast.com, Russia)
Maciej Wojs (TVP Sport, Poland)
JURY MEMBERS FROM ALL OVER THE HANDBALL WORLD
Our goal that handball world gets a public and fair contest for the World best players of the year, since 2010 received a big support from the parts of handball globe. WORLD HANDBALL PLAYER 2021 Jury is consisted of the people with their names and CV's with the clear aim to get opinion from different countries, continents, handball schools and traditions. Our Jury members are famous handball specialists in their countries, which coming from the biggest media (Marca, TV 2 NO, L Equipe), but also from specialized websites and newspapers as Handball Woche, Balkan-Handball.com,g-sport.mk, Handball-World, etc…
NAGY, JICHA, DUVNJAK, KARABATIĆ, HANSEN…
Handball-Planet.com looking for the 11th World's Handball Player in the history of our Contest. Hungarian TOP star Laszlo Nagy won award in 2011 when over 6500 fans voted on our Poll question. WORLD HANDBALL PLAYER 2012 was Czech star Filip Jicha (over 13.000 voters), while in 2013 the first name in the handball world was Domagoj Duvnjak with unified opinion of Jury members and huge support of the fans (about 146.000 votes for all nominees in total).
The WORLD HANDBALL PLAYER 2014 was Nikola Karabatić, with the great support of Jury members, but also over 171.000 fans who voted in our Polls. Fantastic French star won also the title in 2015.

The winner of 2016 Contest was his team-mate from PSG Handball, Danish TOP star Mikkel Hansen.
HANDBALL-PLANET.COM WORLD HANDBALL PLAYER OF THE YEAR
2011 – Laszlo Nagy
2012 – Filip Jicha
2013 – Domagoj Duvnjak
2014 – Nikola Karabatic
2015 – Nikola Karabatic
2016 – Mikel Hansen
2017 – Arpad Sterbik
2018 – Sander Sagosen
2019 – Mikkel Hansen
2020 – Sander Sagosen
Based on 10 years of our project Handball-Planet.com organized WORLD HANDBALL PLAYER OF THE DECADE CONTEST
WORLD HANDBALL PLAYER 2021 – PARTNERS
MASTERS HANDBALL WORLD CUP– mhworldcup.com