Andreas Wolff in Kielce is definitely the biggest handball news of the beginning of the season. The 26 years-old German goalkeeper signed four years contract with the Polish champions starting from summer 2019, when his current deal with THW Kiel is going to expire, as Handball-Planet.com wrote five weeks before everything officialy announced on Monday's press conference in Warsaw.
However, despite logic conclusion that Wolff will join team led by Talant Dujshebaev as a free agent in 2019, a lot of rumours about "the biggest transfer in history of handball" could be seen in the last two days on Web in Croatian, Macedonian, Bosnian media.
All of them published stories about "handball Neymar", who will be most payed handball player of all-time. According index.hr, PGE Vive Kielce will pay 3.000.000 transfer fee to Kiel, while Wolff's annual salary is set on 1.000.000, which will put behind even PSG Handball stars Mikkel Hansen and Nikola Karabatic.
According this sources, Telekom Veszprem were ready to pay 2.600.000 transfer fee and 700.000 EUR annual salary to Wolff, but then Kielce gave the better offer…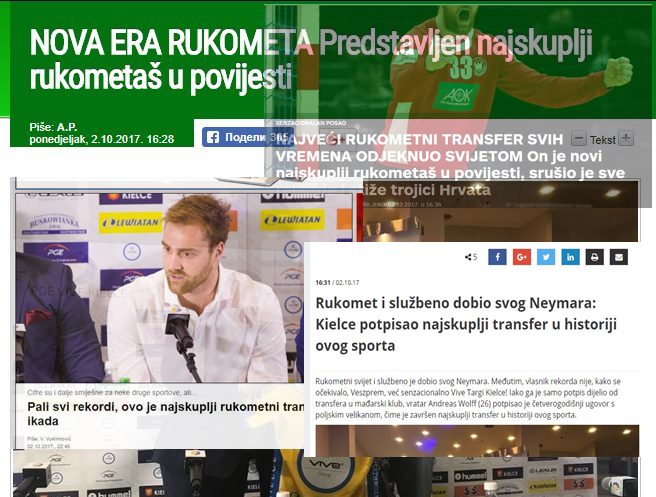 Handball-Planet.com got an exclusive statement from PGE Vive Kielce chairman Bertus Servaas (Handball Person of 2016). We asked whether Andreas Wolff coming to Kielce as a free player in summer 2019?
The sums mentioned are very close to our annual budget. We already have two goalkeepers for next season, so Andreas Wolff is provided for 2019. We don't offer such high wages as well. All of these things are just rumors – said Servaas to Handball-Planet.com.
According this is clear that PGE VIve Kielce goalkeeper's duo in season 2018/2019 will be Filip Ivic (who has a contract until summer 2020) and Vladimir Cupara, which transfer in summer 2018 (four years deal) from BM Ademar Leon is once again confirmed on Monday.